Carrie's Moroccan Inspired Los Angeles Patio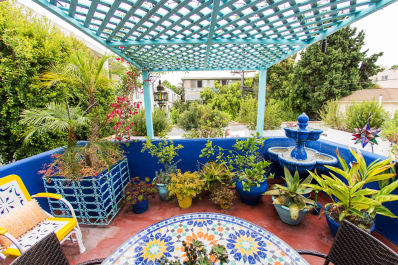 (Image credit: Root Photography)
Name: Carrie
Location: Windsor Square — Los Angeles, California
When we first toured our apartment, the patio looked like a prison yard. The paint was dirty and peeling, the floor was inexplicably covered in commercial kitchen mats, and the view was a tangle of power lines looming over the ugly backsides of three neighboring apartment buildings. (And don't get me started on the flattened toilet boxes one neighbor used for curtains!) But we knew if we could make the space great, we'd have an extra "room" in our apartment that L.A.'s weather would allow us to use year-round.
(Image credit: Root Photography)
With zero knowledge of plants and a half-idea to replicate the "Vaguely Moroccan" theme of our wedding, we started looking for an accredited landscape designer to help us. It was hard to find someone who would take on such a small project, but when we met Laura Morton, we instantly clicked. She shared our love of Moroccan style, which she translated into a variation on Yves Saint Laurent's Jardin Majorelle in Marrakech.
The first step was to paint everything "Majorelle Blue" (actually Dunn-Edwards' Deep Sapphire), with a red clay-colored floor and yellow and turquoise accents. This immediately cut the harsh glare that was bouncing off the patio into the adjacent room and began to give the space a sense of place. Laura erected a temporary trellis that can be removed easily if we ever move and bedecked it with star jasmine and bougainvillea.
(Image credit: Root Photography)
We selected Moroccan light fixtures from some of Los Angeles' great import stores, including Badia Design and Berbere World Imports. At Badia I fell in love with a turquoise lattice panel for which we had no use. Laura came up with the brilliant idea to "cage" it around one of the planters as a decorative element.
Choosing a fountain was tricky—most of the beautiful tiled Moroccan fountains we loved were way out of our budget, and the more affordable ones were so small that they wouldn't make much of a focal point. In the end, we found an inexpensive Spanish-style fountain and painted it Majorelle Blue, then invested the money we'd saved into a custom Moroccan tiled table top.
(Image credit: Root Photography)
We took a traditional Fez tile pattern and used Photoshop to swap in the colors from our wedding in Epcot's fake Morocco. Then we worked with Badia to have the table top created in real Morocco. At first the artisans told us that Fez tiles aren't made in turquoise, but eventually they came up with a color that looked like turquoise to us! It was hard to wait that long for the custom piece but fun to imagine it sailing halfway around the world to get to us in L.A.
Laura selected easy-care Mediterranean plants that we couldn't kill, including hedges in lightweight planters to screen the ugly view. We put the whole thing on a drip irrigation system to make it drought-friendly and even more idiot-proof. Our favorites are the Meyer lemon and kumquat trees, and if you come over we will badger you to eat something we've made from the fruit!
(Image credit: Root Photography)

The whole project took about six months. In the end, not only did we get an extra room, but we improved the view and atmosphere of the two rooms that look out on the patio. We try to eat dinner out there most nights from spring through fall, and we love to entertain guests there too.
Thanks, Carrie!
• Interested in sharing your outdoor style with Apartment Therapy? Contact the editors through our Outdoor Space or Project Submission Form.
Apartment Therapy supports our readers with carefully chosen product recommendations to improve life at home. You support us through our independently chosen links, many of which earn us a commission.