My Search for the Perfect Upholstered Headboard Is Over, Thanks to This Chic, Minimalist Find
We independently select these products—if you buy from one of our links, we may earn a commission. All prices were accurate at the time of publishing.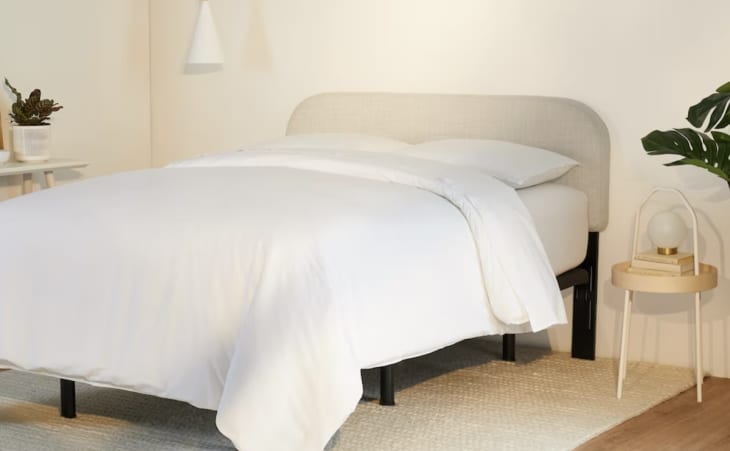 While I can be fairly unfussy about shopping for decor, when it comes to choosing furniture, it's a whole different story. Finding my dining table took months, and I still don't have the chairs I want to go along with it. Don't even get me started on the teal bookcases in my office that felt like digging for a needle in a haystack when I was desperately seeking shelving. Surprising no one, picking out headboards has always been a struggle. In fact, I slept for years on a bed that didn't have one! It seemed like there were too many options to pick from, and though I liked the look of upholstered beds, it seemed high-maintenance to keep clean. Not to mention there were so many styles, it was hard to settle on one. All I needed was something sleek and simple. I found out about Casper's Attachable Headboards when they launched, and when I saw them, I knew right away that they were what I was looking for all this time. Casper sent me a Drift Attachable Headboard, and after trying it out, my positive first impression was beyond confirmed.
When the Drift Headboard was delivered, the size of the box caught me by surprise. I'd been expecting a fully-assembled piece that I'd need help moving from room to room. Instead, I got much more manageable materials. When it arrives, the headboard is split into two panels and comes with a slip cover, legs, and all the necessary hardware. Though it can be assembled solo, I'd recommend having a second person help you put it together for a faster process. The Metal Bed Frame, Foundation, and Drift Attachable Headboard totally revamped and elevated the bed. Before, the mattress was on a bed frame so old that I couldn't tell you what happened to the previous headboard, but now it looks complete. 
The Drift Attachable Headboard couldn't be easier to handle and assemble. Its panels have an outer layer of foam, which was great when it came to putting on the slipcover, we had some wiggle room. Once it's on, the slipcover is secured with a velcro closure in the back that also covers the screws. Protip: It's most efficient to put on the cover once the headboard is attached to the bed frame, especially if you're assembling it by yourself. The headboard can be attached to any non-Casper headboard with universal headboard brackets, however, if you already have one of Casper's bed frames, you'll already be steps ahead and might even be able to skip some steps all together. We were fortunately attaching the headboard to Casper's Foundation + Metal Bed Frame, which meant we wouldn't have to use brackets whatsoever. The headboard is also compatible with Casper's Adjustable Bed Frames, just be sure to add $45 brackets to your headboard order before checking out. 
What I love about Casper's Attachable Headboards, both Drift and Bliss, is their minimalist take on the upholstered headboard. Part of what took so long in replacing our missing headboard was the sheer number of options available across the board and not knowing where to begin (or end). These headboards are low maintenance with easily-removable covers. The covers are not machine washable, but can be spot cleaned or dry cleaned. Another feature I love is that they're conveniently transportable. I know for a fact that I'll be moving in the next year or two, and one thought that's constantly turning over in my mind is how challenging it will be to pack the furniture. The Drift Headboard doesn't require much thought. All I'll have to do is take it apart and load it onto the vehicle without breaking a sweat. Knowing it's a piece that can make the journey with me — wherever I go next — gives me the confidence that this is a long-lasting piece of furniture I can hold onto for years to come.