The Stylish, Cozy Coverlet Set That Finally Made Me A Lightweight Bedding Convert — And It's On Sale!
We independently select these products—if you buy from one of our links, we may earn a commission. All prices were accurate at the time of publishing.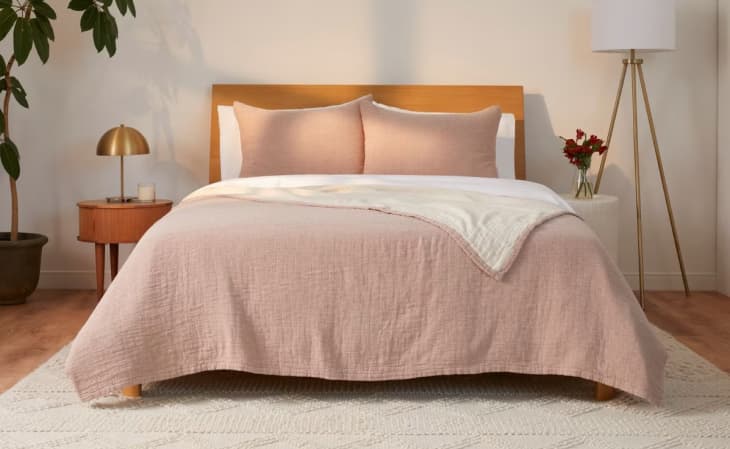 The love I have for my comforter runs deep. For years now I have stuck to the same combination when it comes to a top cover: Amerisleep's Recovery+ comforter wrapped in Urban Outfitter's T-Shirt Jersey duvet cover. With this combo, I'm left feeling like I'm sleeping in a cloud, wrapped in the softest, plushiest cover you could ever imagine. It's truly heaven. So much so, that I don't switch to a lighter bedspread during the warmer months of the year (I'm admittedly someone who likes to sleep with the A/C around 68 degrees, sorry not sorry). However, this year in an effort to broaden my bedding (and save a little on my electric bill) I decided to delve into lightweight, summer-friendly bedding. While digging I came across a pick so stylish I couldn't pass up — and it quickly became a set I don't think I can ever live without. I'm talking about Casper's Matelasse Coverlet + Sham Set, and soon you will, too.
One look at this coverlet set and it's easy to see why it was love at first sight. Made from a stunning Matelasse fabric woven to resemble a textured, quilted pattern, this airy, thin blanket and sham duo is as chic as they come. However, good looks are not all this set has to offer. With a 100 percent cotton construction, it's also breathable and soft to the touch, a must-during the warmer seasons. Best of all, it comes in three piece options, two sizes, and features a fun color scheme with three colorways available (spice, olive, and cream), each with a cream underside.
Now, as I stated above I am not one for lightweight bedding, however, given how chic this set is (and the fact that I'm already a fan of Casper's sleep products), this one seemed like a great place to start. After I packed away my comforter, I unpacked this set and gawked at just how lovely it was. First of all, the color is spot on; with a mauve-pink hue, spice is the perfect name. Second, it's incredibly soft, and not in that "it's-so-cuddly-I'm-going-to-overheat" way. As I held it against my skin, I knew it was going to be a winner. When it was finally time to head to bed, I pulled the coverlet back, slid underneath, and found that the underside of the blanket is even softer than the outside — a big win. I turned on my fan (and tuned off my A/C), draped the blanket over me, and quickly fell asleep. When I woke up, I was cool, comfortable, and confused — had I really just become a lightweight bedding convert overnight? Seems so.
A sleek, stylish, and cozy pick, this coverlet set comes in three colors and retails at $288 for a Full/Queen size set. Right now you can save 30 percent off during Casper's 4th of July sale, making it the perfect time to give this set a try. So if you're like me and not sure whether or not a lighweight set is right for you, give this one a go — you may just find yourself converting, too.