Apparently, Cats Love Climbing in Christmas Trees, and These Pictures Prove It
We
independently
select these products—if you buy from one of our links, we may earn a commission. All prices were accurate at the time of publishing.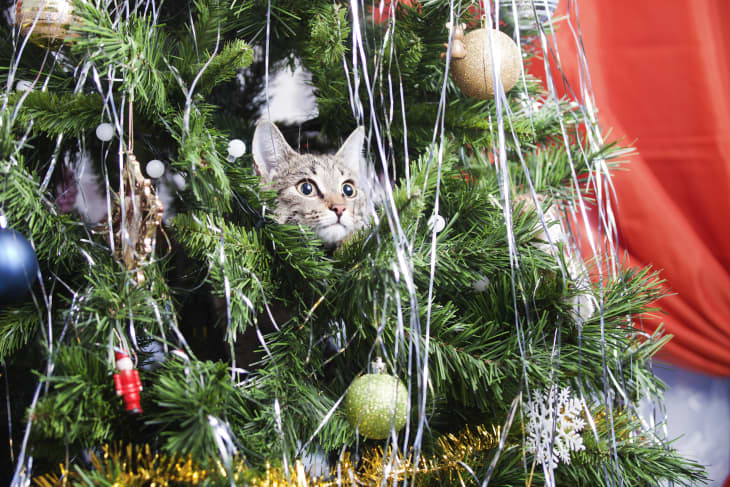 It's no surprise that cats like to climb. There's a reason that playgrounds, towers—even roped bridges—are created for kittens to exercise their right to pounce, play, and explore. But seeing them climbing in Christmas trees takes the idea of a "cat tree" to a whole new level (perhaps literally).
While in the thick of the holiday season, owners are posting their cats climbing in their Christmas trees all over social media. From photos to videos, an array of cats are being seen among colorful ornaments, glittery lights, and strings of beads. This viral tweet alone speaks to the relatability cat owners feel with one another on the matter.
You might find yourself wondering, why are cats climbing these said Christmas trees? While it might be simply because it's fun, there's also information out there that links climbing trees to their natural hunting skills. "You see behaviors at both ends of the predator/prey spectrum," Susan Bulanda, a canine and feline ethologist, told PetMD. "So, as skilled hunters, they may chase their prey up a tree without realizing what they've gotten themselves into." Getting down is a whole other story, but luckily Christmas trees generally aren't too tall.
See below for the most striking moments of cats being perched in piney branches. Who knows, maybe the next time you stare at a Christmas tree, there will be a pair of eyes staring back!
This beautiful collage shows the many angles of one cat's journey in a tree.
Oh yeah? Huh, we didn't notice.
As adorable as this little guy is, @stoneoakvet brings up a good point that we should be mindful when putting up decorations around our pets!
"Rockin' around the Christmas tree…"
This kitty just wants to be an ornament, is that so much to ask?
Okay, well, this cat is an ornament so #goals.
Do you hear what I hear??? A cat making his way through a pine, that's what!