4 Mistakes You Never Want to Make While Painting a Ceiling, According to a Real Estate Pro
We independently select these products—if you buy from one of our links, we may earn a commission. All prices were accurate at the time of publishing.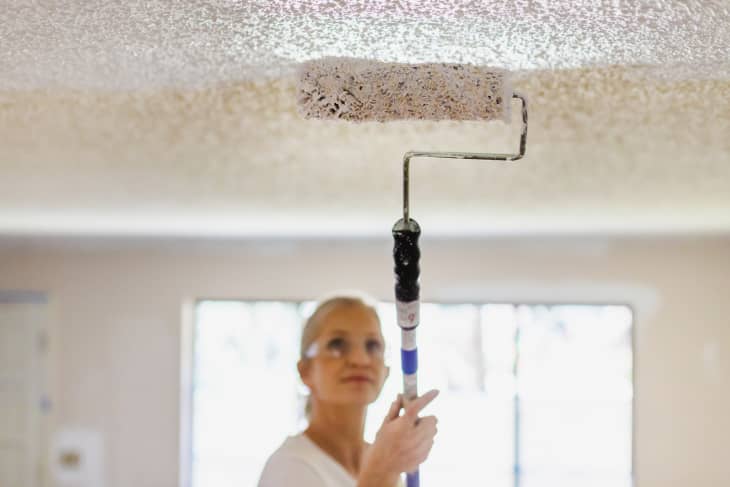 To paraphrase Rihanna, we all want to shine bright like a diamond. But your ceiling? Not so much. When it comes to painting a ceiling, things can get a bit more complicated than when you typically take a brush to the wall. For some help in avoiding major mistakes, I turned to Kate Ziegler, a Realtor with Coldwell Banker Lifestyles in New London, New Hampshire and Arborview Realty in Boston. Below, she shares a few of the mistakes you don't want to make when you're pushing a paintbrush. 
Follow Topics for more like this
Follow for more stories like this
Choosing High-Gloss Paint Over Matte
Sure, a glossy finish can look amazing on your apartment wall. But when it comes to your ceiling, the less reflection, the better. "Use ceiling paint in a very flat finish," advises Ziegler. "Any hint of gloss will reflect light on your ceiling, highlighting any flaws from old patches, water stains, plaster cracks, or poorly taped drywall joints."
While glossier paints are easier to clean up when the job is done, those few extra minutes of cleaning are much better than having to repaint the entire ceiling later when you realize every water stain is standing out. Simply put, "flat is the way to go," Ziegler says. 
Failing to Use Special Care for Chipping or Peeling Paint
One of the most common reasons for repainting a ceiling is the peeling that can happen after several years. If you have a ceiling that's peeling, you may be dealing with an older material known as calcimine, "which is notoriously difficult to patch up," says Ziegler.
This is particularly common in historic homes, where you might see paint chips falling to the floor. While some people choose to completely remove the calcimine paint, Ziegler suggests using a specialized coating as a base layer for the new paint. In severe cases, remove or or add new drywall over the existing ceiling to get back to a surface that won't peel off again.
Forgetting to Wear Eye Protection (and Hair Protection!)
While it may seem like an obvious word of advice, one of the keys of painting a ceiling is to protect yourself by wearing adequate eye protection. "Paint rollers kick off small flecks of paint in any setting, but when they're falling from above, your eyes are especially vulnerable!" says Ziegler. "Save yourself the emergency rinse and protect them in the first place." She also suggests wearing a hat, to prevent your hair from "becoming collateral damage."
Ignoring Cracks in the Ceiling
Before you get to work with your paintbrush, keep in mind that you should consider consulting a professional if you can spot cracks in your ceiling. While they're incredibly common in old plaster ceilings and probably aren't related to the structural integrity of your home, patching them up can be "a major challenge," says Ziegler. "Pros can help rule out more major issues, and advise on patching versus replacing to get the quality ceiling finish you're looking for," she notes.