I Spent Three Days at a Tile Trade Show, and These Are the Only Tile Trends You Need to Know for 2023
We
independently
select these products—if you buy from one of our links, we may earn a commission. All prices were accurate at the time of publishing.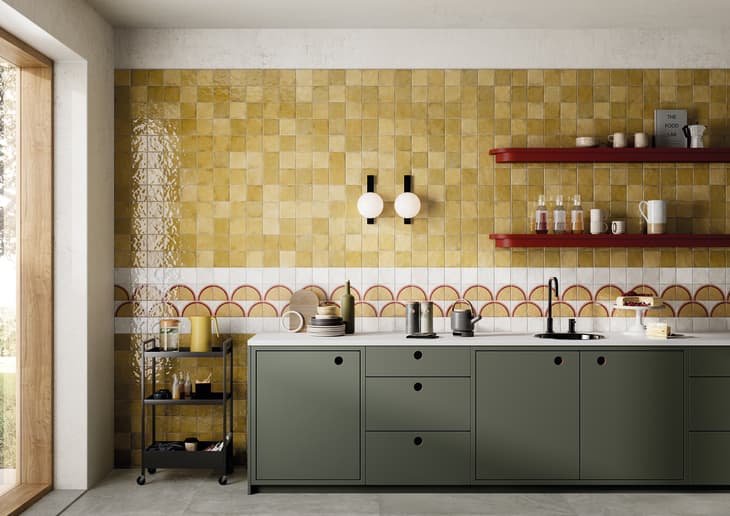 There's just something about tile. I don't know if it's the hand-hewn texture, the rich colors, or just the fact that it's so darn durable and easy to clean (yes, I know, grout lines can be another story), but I've been a fan of ceramic squares, rectangles, and mosaic tiles for as long as I can remember. So when I got the chance to attend Cersaie, an international exhibition of ceramic tile and bathroom furnishing in Bologna, Italy, on behalf of Ceramics of Italy, I jumped at the chance. And let me tell you, what I saw is a sign of the big tile trends to come.
If you're looking to make a statement when it comes to your surfaces and finishes, check out the latest and the greatest trends straight from Italy, arguably the tile capital of the world. You'll be seeing a lot more of these kinds of tiles stateside soon!
What if I told you that you could get the patterned wallpaper look in a full bathroom without ever having to worry about shower steam and humidity causing any peeling or bubbling? The answer is tile that's made to mimic the look of wallpaper, and it was all over the booths and halls at Cersaie. Whether you're drawn to bold florals, tropical fronds, abstract shapes, or patchwork repeats, you can find a sizable, slab-style tile to build your repeats out of, similar to the way you'd paper with individual panels or rolls.
I thought the grout lines in this application would be distracting, but in many patterns, particularly the ones with slightly smaller designs, like this chinoserie called Primavera from Italgraniti's Decora collection, the seams were minimal. The longevity (the average lifespan of installed tile is up to 50+ years) — and cleanability — of these fool-the-eye styles simply cannot be rivaled by paper or vinyl products, and if you've ever wished that you could carry your beloved patterned "paper" onto the floors, well, now you can. 
Color has been getting earthier over the past few years, especially when it comes to shades of green. That trend is now taking over tile now, too. Softer sages, like what you see here, sat alongside lush emeralds and bold jades, allowing you to mimic the shades of a deep forest or a grassy knoll on your walls or floor. These colorways play into the idea of bringing the outdoors in by adding that touch of nature-inspired design to your place for some serenity and calmness, even in you live in the busiest of urban environments.
Big, bold, and meant to look like stone
Something I saw in nearly every booth? Oversized tiles that looked like exotic and semi-precious stones in colors ranging from ceruleans and amethysts to minimalist-inspired classic rocks like white marbles and sandy travertines. These tile products are far more durable than natural stones, and the super-large format sizing means applications could range from walls and floors in commercial spaces to countertops and even bespoke furniture pieces in residential location. Sure, they're expensive, but natural stone in these sizes would definitely be pricer, and honestly, the stone-look surfaces coming out of the factories in Italy are some of the finest and most convincing I've ever seen. There's also a sustainability story here, too. You can get the stone look as seen here, with Atlas Concorde's Marvel Gala Amazzonite or Marvel Travertine Sand Cut Vein collection, without ever touching a quarry. 
Move over, zellige tile! There's a new shimmery style emerging in the world of tile, and it's all about iridescence. Designer Sasha Bikoff recently used a tile similar to this Studio One's Studio Mood Lucedentro in the Otherland candle store in Soho, New York City, and I wouldn't be surprised if these luminous rainbow pieces started jazzing up more stack-bond subway tile configurations like what you see here. If you really like color but sometimes have trouble picking favorites, this look is super-fun and surprisingly livable. How cute would these tiles be incorporated into a shower surround or behind the sink wall in a kid's bath?
So many of the field tiles I saw had a distinctively groovy look in terms of their curvy, wave-like forms and warmer color palettes. Think rusts, reds, ochres, and mustards, like these golden squares from La Fabbrica, which display a beautiful variance from tile to tile. The '70s was also a decade of disco, partying, and excess. Many tiles sported this more glamorous vibe, too. I spotted flashy gold detailing, shiny finishes, and mirrored glass as well, but the naturalistic, '70s styles definitely have a broader appeal.