"DHY" is My Secret for Affordable Custom Framing
We independently select these products—if you buy from one of our links, we may earn a commission. All prices were accurate at the time of publishing.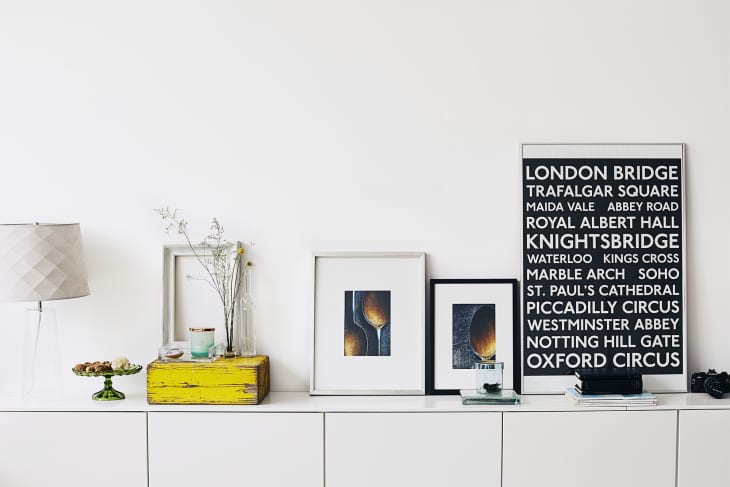 "Anything can be art!," they say. "Frame a beautiful paper menu or a favorite scarf for budget-friendly artwork."
It's not bad advice (I may or may not have written about this exact topic a couple weeks ago), but what the proverbial "they" forget to mention is how mind-bogglingly expensive custom framing can be when you're trying to dress up your walls on the cheap. Your quirky little found object isn't likely to fit inside the standard-sized frames you pick up at Target.
My trick for affordable framing is a thing I like to call "DHY," or Do Half Yourself. Basically, you order custom-built frames online, then assemble them yourself at home.
Here's how my usual workflow goes:
The Store: Makes my frame to my specifications and ships it to me.
Me: Take the frame apart. Peel off the protective film from the acrylic (so satisfying!). Assemble my frame back together. Marvel at both my new artwork and my frugal prowess.
I've used the DHY technique to frame wallpaper samples and magazine covers to fill out gallery walls like the one in my bedroom, pictured below, for less than the price of new artwork and frames.
If you want a mat for your artwork (I've done it a few times), the assembly is a bit more involved, but nothing you can't learn to do with $10 pack of framing tape from Amazon and a quick YouTube tutorial on T-hinges. It's certainly more difficult than just rolling up to the counter at Michaels or sending your artwork off to a full-service framer like Framebridge. But it's also a lot cheaper (and you don't have to put your brand new print in the hands of the postal service). The most recent thing I framed—a 13 ½ inch by 22 ¾ inch print—was $56.87 from Frame it Easy, but would have been $145 on Framebridge.
This isn't an ad, just an enthusiastic and honest review. I have 16 frames in my loft from Frame it Easy (I just counted), each one paid out of my own pocket. I am constantly recommending them to friends, and I just thought I ought to recommend them to you. (I haven't personally tried it, but Framed & Matted is another similar site that will build and ship you custom frames to assemble at home.)
If you have really special artwork, you should spring for a pro framer. I wouldn't DHY with a one-of-a kind-Picasso, for instance. Or an irreplaceable family photo.
Apartment Therapy published an article about why custom framing is so expensive, and to sum it up, a professional knows how to preserve your piece and keep things like dust, oil, and humidity (and other enemies) away from your art. Full-service custom framing is well worth the price because of the knowledge and skill of the framers.
But if all you really need is a cheap frame in the right proportions, and you're willing to take on a bit of the work yourself, DHY can pay off.