The $15 Fix That Gives Your Kitchen A Major Instant Upgrade
We independently select these products—if you buy from one of our links, we may earn a commission. All prices were accurate at the time of publishing.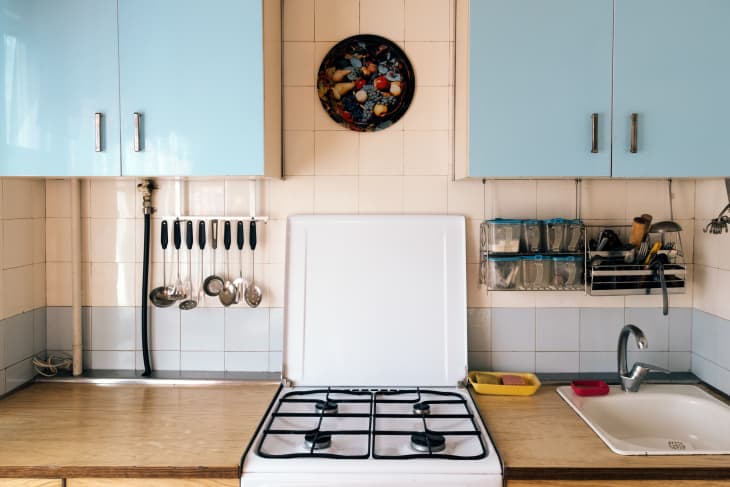 Whether you rent or own your home, quick and cheap fixes that can help to give various spaces a makeover are handy. And they're especially handy if you might be putting your home on the market soon.
Follow Topics for more like this
Follow for more stories like this
Selling a house can feel overwhelming at every step, but one of the most trying times might just be the prep work phase: everything a seller does to maximize the home's selling potential before they put it on the market. Your goal is to get every possible cent of equity out of your home through the sale, but you'll probably quickly learn that you just can't tackle everything.
Sure, you could sell your home for significantly more if you could finally just remodel the kitchen, but that's not always realistic. For one, it's a job that comes with a hefty price tag in the way of money, of course, but also time and energy. Luckily for all of us, small and affordable fixes can go further in leaving a good impression on buyers than you might assume.
One tip in this article piece really stuck with us: replace the burner pans on your stove. Even though this seems obvious now, I'm not sure I would have thought of it myself. While burner pans are not usually a feature of newer electric stoves, they are commonplace on older models with coil burners. It's usually under $15 to get a new set of these, so this is a very affordable fix for renters, too.
Not only is it a simple fix for anyone with an electric stove, but we can't overstate how pleasant shiny new burner pans are on the eyes of buyers who are scanning everything at a glance. They're looking at tons of houses, so little things go a long way. One of those little things? A stovetop that sparkles—even when the stove itself may be old and otherwise shabby. 
I spoke with Rachel Day, a realtor with Urban Nest PDX, about the punch packed with new burner pans. She absolutely agreed that this is an important switch to make. "For around $10, this DIY fix will give your stove a fresh and clean look, sure to impress," says Day.
"Save yourself the time and hassle of scrubbing and just get some new burner pans," Day reiterates. 
If you have a gas stove, you can buy a set of replacement grates, though these are slightly more expensive. A basic set of four costs about $60 on Amazon. Still, that's a heck of a lot cheaper than buying an entirely new stove.
"When you don't have the budget to replace appliances, consider giving them a facelift," says Christopher Totaro, a realtor with Warbug Realty. "Stovetops can look tired and worn out if the trim rings and burner bowls are rusting and too crusty to bring back to life. The fix is to locate your model number and go online and order the replacement parts. You will be amazed at how it will revitalize the look."
So I think this makes it official, folks: Change those burner pans pronto! Even for those of you planning on staying in your home.