The Important Reason You Should Always Check Which Way a Driveway Faces
We independently select these products—if you buy from one of our links, we may earn a commission. All prices were accurate at the time of publishing.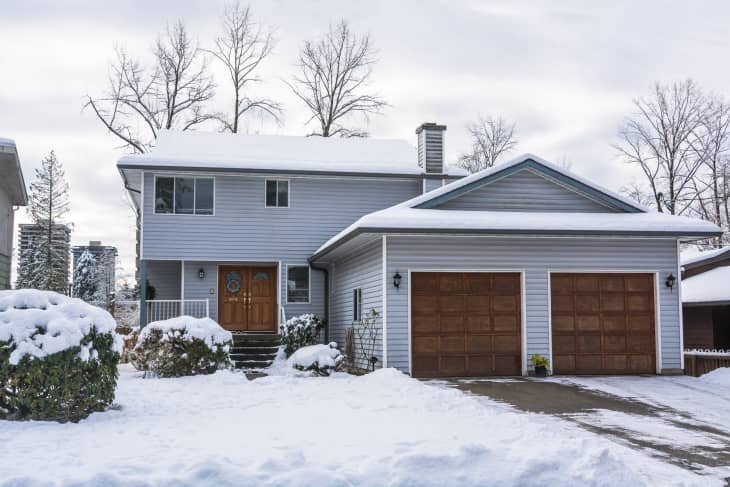 When you're walking up to a home for a tour or open house, you probably notice lots of little details, like the landscaping, the color scheme, and whether there's a garage or not.
Follow Topics for more like this
Follow for more stories like this
But there's another big factor you should consider as you make your approach: the driveway.
Yes, the humble driveway: that seemingly boring rectangle of concrete that's good for parking cars, shooting hoops, hosting yard sales, and coloring with sidewalk chalk. It's an easy element to overlook, but an important one, according to Colorado real estate agent Kris VanBuskirk.
In a clever Instagram Reel, VanBuskirk shows one important reason why homebuyers should take a long, hard look at a home's driveway before singing on the dotted line. In it, she slowly pans across a driveway that's totally dry and completely clear of snow. When she pans to the houses situated across the street, you can see that their driveways are still totally covered in the white stuff.
"Here is your annual reminder to make sure you take into account which direction your driveway faces when buying a house," VanBuskirk wrote, adding a cheeky "#southfacingforthewin" hashtag below.
The message is clear: In snowy climates, driveways that face north can become slippery disaster zones after a big storm because they don't get as much sun to melt away the snow and ice. Driveways that face south or west, on the other hand, get much more exposure to the sun's rays throughout the day, which helps snow and ice to melt faster.
If you have houseplants, this concept may sound familiar: Plants that require a lot of sunlight tend to thrive in south-facing windows.
"My parents' house had a north-facing driveway — I distinctly remember having to shovel the driveway growing up, and having a patch of ice sit on the top part of our driveway for what felt like months because the sun never touched it," VanBuskirk tells Apartment Therapy. "Later in life, when I met my husband, one of his main criteria for purchasing a house was a south-facing driveway and then it really clicked. What seems like an initially nit-picky parameter is actually a game-changer as a homeowner. Life is much easier when you don't have to worry about shoveling and removing ice every time it snows."
Other Driveway Considerations
The driveway's direction isn't the only factor you should consider. As you evaluate a home, also think about:
The location. If the house is situated along a major thoroughfare or a road that sees tons of traffic during the morning rush hour, will you really be able to back your car out of the driveway? A busy road doesn't have to be a dealbreaker, however. A circular or half-moon driveway can help streamline your commute, says Florida real estate agent Alex Platt.
"Having a circular driveway when on a busy or main road is crucial, so when you are pulling out of your driveway, you are able to pull straight out and see if other people or cars are coming," he says. "It is much safer than having a blindspot when reversing out of a straight driveway onto a busy street."
The condition. Your home inspector will likely note this as well, but keep an eye out for any large potholes, cracks, evidence of settling, and even tree roots that may be affecting the driveway's integrity, says Platt. 
Also look for any driveway areas that could give you or your guests any trouble while walking up to the house, says Donna Deaton, a real estate agent in Ohio.
"If the lip of the driveway is more than a couple of inches, it can be a tripping hazard that could result in an injury," says Deaton.
The size. If the garage is teeny tiny (or the home doesn't have one at all), will you need room to park all of your family's vehicles in the driveway? "The size of a driveway might be significant if all cars can't fit into the garage," says Kelly Moye, a real estate agent based in Denver. 
The slope. There are pros and cons to having a steep driveway, says Moye. On the one hand, a steep driveway helps water and snowmelt flow downhill away from the home. The home may also be located at the top of a hill, which means you have great views out every window. But on the other hand, a steep driveway may mean that your kids can't comfortably play on it. 
The garage location. A driveway-adjacent factor to consider is which direction the garage faces. Is it located behind the house, as a standalone building? Does it face the street? Or is it tucked away on the side of the house? "A side-load garage may heighten the curb appeal for a home, which is better for resale," says Moye.
Sharing with neighbors. Many townhomes and even some single-family homes feature shared driveways. "You will want to confirm whose responsibility it is to maintain that driveway, as well as take care of snow removal," says VanBuskirk.