The All-Too-Common Stuff a Real Estate Agent Calls Your "Home's Most Vicious Enemy"
We independently select these products—if you buy from one of our links, we may earn a commission. All prices were accurate at the time of publishing.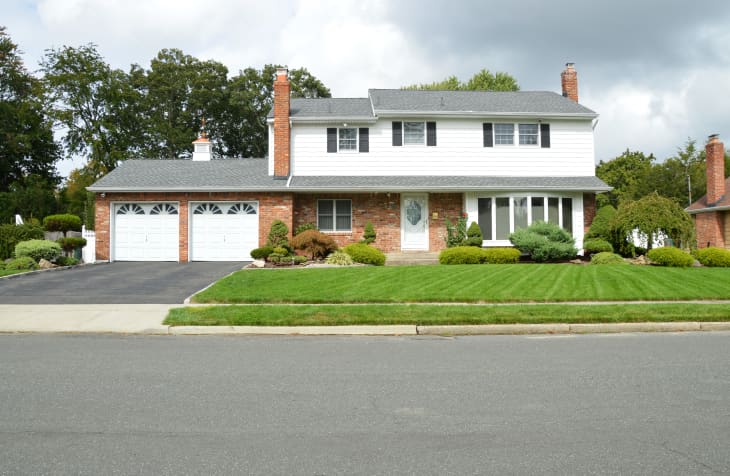 If you're new to the world of homeownership, you may be feeling overwhelmed at the dizzying array of regular and seasonal maintenance tasks that are now on your to-do list — changing out the furnace filters, raking leaves, unclogging drains, blowing out the sprinklers, cleaning the gutters.
But if you're short on time or money — or, you just want to pare down your home maintenance list to the essentials — there's one household enemy in particular that real estate agents recommend you take steps to avoid at all costs: water damage.
"Water is a home's most vicious enemy," says Ryan Renner, a real estate agent in Omaha, Nebraska.
If you and your home were affected by Hurricane Ida, you know all too well that rain can quickly become a torrential downpour, causing flooding and other issues. And as the climate changes, you don't even have to live in a hurricane-prone area for this to become an issue. Simply put, water can wreak havoc on your home, leading to big, expensive headaches that could make it harder to sell your house in the future.
"Water damage is a huge red flag for most buyers," Renner says. "Some will end their showing the second they see any type of water issues. Many buyers are able to look past a lot of issues, but very few will look past water issues. This will greatly impact the resale of your home."
Yikes. This sounds serious. Luckily, there are some simple steps you can take ahead of time to help prevent water damage from raining on your parade (pun intended).
On the outside, keep water away from your home at all costs, Renner suggests. This means buying downspout extenders so that when it rains, the water runs down and away from your home. These are usually between $10 and $20 at your local home improvement store. Be sure to grab one for each separate downspout around your house.
"Many homes have short extensions, and that just dumps the water right next to the foundation and can cause major issues," Renner says. 
This also means cleaning your gutters regularly, which prevents water from spilling over the top of your gutter and pooling around your foundation. And when it starts to pour, put on your raincoat and head outside to do a quick perimeter check so you can spot any gutter or downspout issues right away.
You can also help prevent water from pooling around your foundation by replacing or leveling any concrete slabs, such as a patio or driveway, that slope toward, instead of away, from your house. Check the slope of your yard as well. If the ground is sloping toward your foundation, this is an easy fix with some dirt and a little elbow grease (or you can hire someone), Renner says.
Inside your home, keep moisture from lingering anywhere for too long, since it can lead to mold, mildew, cracking, discoloration, bowing, and other issues. This means turning on the bathroom fan whenever you shower, regularly checking for leaks, and, depending on where you live, investing in a sump pump to keep your basement nice and dry. 
A handy tool that Renner recommends is a water detector, which costs about $10 and can notify you of any water leaks.
"Place these under sinks, near water heaters, and any other areas with water," he says. "The alarm will go off and you will be notified of a leak. Oftentimes, you don't know about a leak before damage is already done. This will help you prevent more damage."