This $30 Drying Rack Holds a Surprising Amount of Dishes (It's Ideal for Tiny Kitchens!)
We
independently
select these products—if you buy from one of our links, we may earn a commission. All prices were accurate at the time of publishing.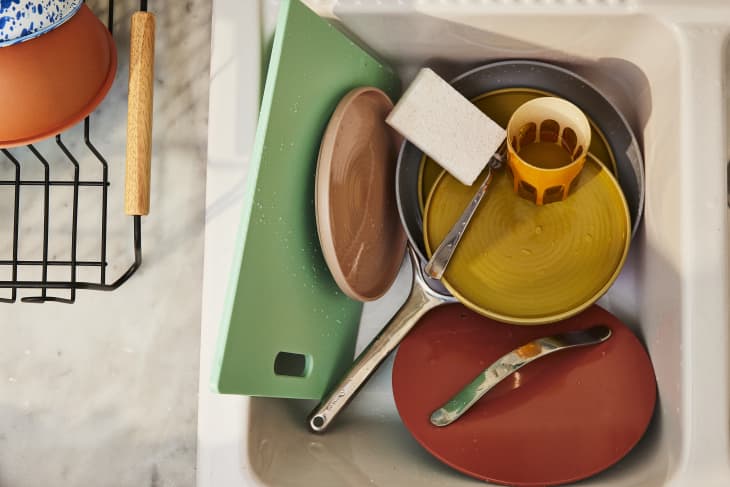 My favorite pieces of kitchen gear are the ones willing to embrace being different. These are the tools that may look odd or even confusing at first glance, but their distinctive designs are meant to solve problems in new and creative ways. Granted, these don't all turn out to be winners, but the ones that do often help you make better use of your home.
One area where I'm always searching for improvement is countertop dish racks. These kitchen tools are a necessity for many people (myself included), but they often demand certain concessions that can be frustrating. Most dish drying racks are larger than they need to be. Many are cumbersome and difficult to clean. And every one I've ever seen has been square, which means they occupy a lot of counter space. That's why I was so thrilled to finally find an alternative that makes your dish rack options more well rounded.
This clever dish rack breaks with convention by having a circular shape — and still being able to fit a small sink's worth of dishes. In lieu of the traditional grid design that most dish racks have, this round dish rack uses a matrix of short, rounded nubs in conjunction with a taller perimeter to give dishes of all shapes and sizes a place to hang out and dry off. You can fit plates, bowls, mugs, and glasses in the main drying area, then place the two skinny utensil holders anywhere within the field of nubs to serve as holding places for forks, knives, and spoons. It may not hold quite as many dishes as a full-size rack, but it can easily fit the dishes from a two- or three-person meal.
Unlike other dish racks, this model has a built-in drainage spout that you can open and close, which means you're not required to use it exclusively next to a sink. If you want to relocate your dishes while they're drying off, you now have the option to put them wherever you like — even outside the kitchen if you're really tight on space. While I generally don't mind that my current dish rack is permanently sink adjacent, I would love to have more flexibility with where I can use it, especially on busy days in the kitchen like Christmas Eve when I need every square inch of counter space I can get.
Amazon shoppers absolutely love this device, with one saying they've used it for three years and it works as well as the day they got it. Another reviewer, who likes it so much they bought two, prefers it to bigger models. "After a few rounds with some of the best reviewed larger dish racks online … and sending them back or giving them away … I decided to go a bit smaller with this perfect little gem," they wrote. "It is sturdy, made of thick, quality materials. The spout works perfectly. It fits a surprising amount of stuff, even my massive cutting board. Honestly, if you know anyone who is getting married, getting their first place, is expecting and will have baby bottles to wash and dry — get them this as a gift."