Chris & Kristen's Artists' Retreat
We
independently
select these products—if you buy from one of our links, we may earn a commission. All prices were accurate at the time of publishing.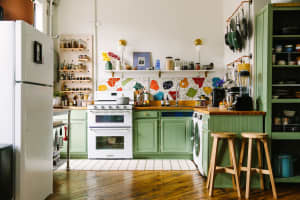 Can't-Miss House Tours Straight to Your Inbox
Keep up with our latest house tours each weekday with our House Tour of the Day newsletter
Name: Kristen Coates and Chris Wyllie
Location: Newport, Rhode Island
Size: 1,500 square feet
Years lived in: 2 years; rented

Kristen Coates loves to have a home full of guests. She and partner Chris Wyllie, both artists who divide their time between New York and Rhode Island, had entertaining in mind when they moved into their spacious third-floor apartment in the heart of Newport above their gallery Egg + Dart. They imagined their home as an artists' retreat for themselves and their friends, some of whom show work in their Manhattan art gallery Coates Wyllie.

The airy, light-filled space is the perfect place for an artist to unwind. A ten-foot square window that overlooks Bellevue Avenue is the first thing you notice as you enter the drawing room. There is art — big and small, in books and on ledges — nearly everywhere you turn. The high ceilings and ample wall space keep the apartment from feeling cluttered and make it possible to display large artwork, including several of Chris' figurative and narrative subjects painted on vintage doors. Kristen, best known for her creative fashion collections and full-sized teepees, adds warmth to the space with simple designs like a bundle of sticks with brightly painted edges and a hand-dyed tablecloth draped over the dining room table, a Coates family heirloom.  
The couple has a laissez-faire attitude when it comes to hosting. They enjoy putting out a beautiful spread of food and wine and insist that friends come and go at will, help themselves to anything in the fridge and, most importantly, relax and feel at home. "It's like summer camp, but better, because there are no rules," says Wyllie.

In order to have room for more visitors, they recently took over a second floor apartment in their building. They also own a renovated houseboat they use as a creative outlet and a place for entertaining. "Newport is a special place and our home is very open and comfortable," explains Coates. "Friends come for a day or two and end up staying a week or longer once here. We have the gallery and the garden and the boat in addition to the apartment itself, and inspiration springs from all places." 
And it's hard to not feel inspired by Chris and Kristen themselves; the perfectly suited pair has mastered the art of living well. To the benefit of those who surround them, they thrive on sharing the wealth. 

Apartment Therapy Survey:
Our Style:  A mixture of modern and vintage with bohemian spirit. Our roots are clearly in New England, but our ideas are way up in the sky.

Inspiration:  As artists that split our time between Newport and New York, we have a lot to draw from on our day-to-day. Everything seems to inspire, from meadows and seascapes to graffiti on the subway.  We find a lot in our friends and our other friends, books.
Favorite Element:  The living and dining areas leave a lot of room for what the space was meant for — relaxation and casual entertaining.  We love to put out a big spread of food and wine, and guests come and go as they like and there's lots of room to unwind, nap, read, or play games.
Biggest Challenge:  Keeping the balance of heat and moisture throughout the year so the living room gardens stay happy and fresh. Or maybe maintaining such an old house. There are no square corners left — floors bob and weave, creating ripples and ramps, and the windows rattle so loudly we find great use for match books come fall.

What Friends Say:  OH MY!  Look at this window!  And then they give the biggest compliment, that our home is perfectly us.  

Biggest Embarrassment:  We still don't have any plans for window treatments and anything we've picked up or tried we end up taking down to preserve the light… so we have a few shades from Ace Hardware for privacy.

Proudest DIY:  Combining two households of furniture, and incorporating all of our art and mementos into the décor and keeping it all our style without compromising space or making anything overly cluttered. Or Chris' window pane coffee table.

Biggest Indulgence: Books and art. 

Best Advice: Make a house a home by filling it with all the things you love.   

Dream Sources:  Travel, yard sales, reading, Pinterest. 

Hall: Muralo, Dusty Blush
Living Room: Muralo, November Rain
Bathroom: Muralo, Nautical Navy
Portrait: Great Grandfather Lockwood, Family Heirloom

Painting on mantel: She's 22, by Chris Wyllie
Foldout art history timeline on the mantel: Tate Museum
Painting behind sofa (left): Smoking in Bed, by Chris Wyllie
Painting behind sofa (right): Girl with Diamonds and Flowers, by Chris Wyllie
Painted bundled sticks: Bundle by Kristen Coates
Drawing: My Teepee or Yours?, framed gift from friend
Photograph of twins: Kristen's grandmother and her sister, Joan and Nancy Lockwood
Watercolor painting in glass vase: Tepee by Kate Wight
Pine cone with tiny note: Egg & Dart
Painting (above bookcase, left of mantel): Untitled, by Kristen Coates
Painting (right of picture window): By The Pool, by America Martin
Coffee Table: Repurposed windows by Chris Wyllie
Owl print: Picasso Museum of Switzerland
Pair of side tables: Found and refinished by Chris Wyllie
Pair of antique lamps: Roadside Antiques in Pennsylvania
Dining Table: Family Heirloom
Hand dyed Table Linens: Egg & Dart by Kristen Coates
Dining Chairs: Family Heirloom updated with reupholstered seats and dip painted backs by Chris Wyllie
Sofa: West Elm
Sea Grass Area Rug: IKEA
Antique Champagne Bucket Planter: Egg & Dart

Mercury Glass Tea Light Holders: West Elm
Antique candlesticks: Various yard sales
Art: X-Ray Light by Chris Wyllie
Woven Planters: IKEA and yard sale
Cutout of boy: street artist Army of One (Jef Campion)

Antique Table: Acquired with the apartment
Antique Marble Top Dresser Bar: Acquired with the apartment
Fish Tureen: Family Heirloom
Panda Head Lantern: Rob Pruitt
Drawing of girl with mask: Gift from friend
Dresser: Acquired with the apartment
Wardrobe: Acquired with the apartment
Painting on refrigerator door: Chicky Boom Ba by Chris Wyllie
Drawing above bed: Ganesha by Chris Wyllie
Round Side Table: Maison140, NYC
Woven Denim Area Rug: Anthropologie
Antique Writing Desk: Family Heirloom
Typewriter: Mantiques, NYC
Mercury Glass Lamp with Shade: Unknown
Red carafe and glass : Gift from friend
Gold camera:  Lomography, NYC
Antique Chairs: Family Heirlooms
Leather messenger bag: J. Crew
Frosted Window: Best Home Fashion Non-Adhesive Privacy Film
Bed/Bedframe: Sleepy's
Linens: West Elm
Floor Lamp: West Elm
Seashell lamp: Family Arts & Crafts piece
Wood side table: Family Heirloom
Antique Easel: Egg & Dart
Painting: Landscape by Chris Wyllie
Dresser: Acquired with the apartment
Bed: West Elm, maybe … I can't remember!
Linens: West Elm
Persian Area Rug: Family Heirloom
Ornaments hanging from window shade:  Chris Wyllie, from his annual Christmas show
Polaroids: Kristen Coates
Office organizer: Pottery Barn
Prints in organizer: Gifts from my Kristen's mother
Step Ladder Shelf (Towel Rack): Egg & Dart by Chris Wyllie
Shower Shelf: Egg & Dart by Chris Wyllie
Pouf: Target
Linens: West Elm
Apothecary: Farmaesthetics
Shirt Collar on toilet: Chris Wyllie
Small plate with crystal on toilet: Gifts from friend
Painting: Paige Williamson
Print: Djordje Ozbolt
Pink bike:  Bought from a farmer's shed in Middletown, RI
Artwork: Rambler Geminis
(Images: Jacqueline Marque)
• HOUSE TOUR ARCHIVE: Check out past house tours here.
• Interested in sharing your home with Apartment Therapy? Contact the editors through our House Tour Submission Form.
• Are you a designer/architect/decorator interested in sharing a residential project with Apartment Therapy readers? Contact the editors through our Professional Submission Form.