Chrissy Teigen's Massive Plant Is Stirring Up Excitement on Instagram
We independently select these products—if you buy from one of our links, we may earn a commission. All prices were accurate at the time of publishing.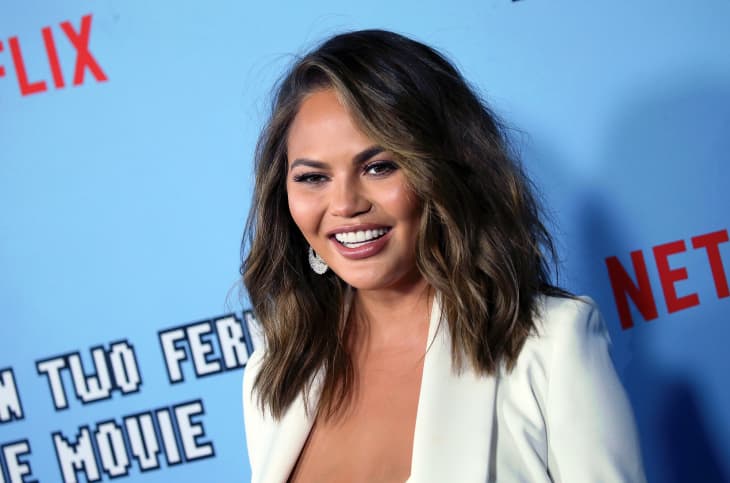 Chrissy Teigen has taken the social media world by storm once more, this time with a recent Instagram post that features a giant indoor tree.
Follow Topics for more like this
Follow for more stories like this
In the photo shared on March 2, Teigen, who posed on a brown leather couch, joked in her caption: "March issue of nothing magazine is on stands now.," tagging interior designer to the stars Jake Arnold along with her usual hair and beauty team. Teigen has a habit of making her followers lust over her style, and this time is no different.
The Instagram post racked up over 650 comments (and growing) and many were in relation to the rather impressive tree that took center stage. "That tree though." said fashion designer Rachel Zoe, while model and actress Brooklyn Decker commented: "It's a nice pic, but I'm gonna need more info on this tree varietal."
It wasn't just the celebs who wanted the details; one fan commented "we're all here for info on the tree," while another said "I need to know more about the tree, the pot, and the moss please. I need an indoor plant like this."
Followers were speculating that the eye-catching plant was an olive tree, and Valerie Ghitelman, Vice President, Design and Sourcing at 1-800-Flowers.com, can confirm that the eagle-eyed Instagram users are correct. "The Instagram-worthy plant that is capturing the attention of Chrissy Teigen's followers is an Arbequina olive tree," Ghitelman told Apartment Therapy.
The elegant Arbequina olive tree originates from the Mediterranean and can grow as tall as 20 feet, Ghitelman said. When fully mature, it can also produce up to 20 pounds of flavorful, dark brown-to-black olives annually. With its gorgeous grayish-green leaves and twisted branches, black olive trees are an ideal statement home decor piece for plant lovers.
Ghitelman mentioned that these beautiful plants worship the sun, which makes Teigen's tree a perfect addition to her California home. In terms of care, Teigen is doing things right by placing it in front of her large ceiling-to-floor window. "Olive trees require at least six hours of full sunlight, daily," Ghitelman explained. "If indoors, they will thrive best near a window with southern exposure."
While olive trees are fairly low-maintenance plants that are drought-tolerant, it's still important to nourish them with regular drinks of water. However, Ghitelman warns not to overwater them, as this can harm the plant. "The soil should never become saturated. If its roots are too wet, it can cause root rot and damage the plant," she says. "To determine when the next watering is needed, always test the top two inches of soil — if it is thoroughly dry — it's time for a drink."
Teigen's planter also caught followers' eyes, and with olive trees, the type of container is crucial to aid growth. Ghitelman said that planting an Arbequina olive tree in well-drained soil placed in a clay, terracotta, or unglazed container will help keep its root system dry and grow properly.
With olive trees, pruning is a vital part of care and this should be done at the end of each winter season, before the plant flowers in the spring. "Once pruned, the tree's canopy will be able to receive more light," Ghitelman explained. "Be mindful not to cut new olive shoots. After the tree blooms, clip the tips of the branches just above the point where the two leaves attach to the stem. Each branch should be six inches in length or more."
So if you want to get Teigen's look, it's time to invest in an olive tree of your own. A cozy leather couch that lets you sit next to the tree and gaze at it would be helpful, too.