Christina Hendricks' Bathroom Renovation Showcases the Power of a Bold Floor and Wallpaper Combo
We
independently
select these products—if you buy from one of our links, we may earn a commission. All prices were accurate at the time of publishing.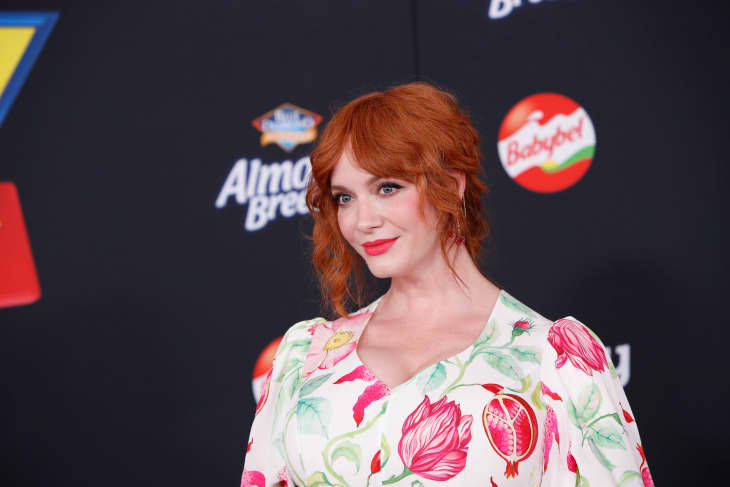 Christina Hendricks is in the middle of renovating the 1908 Craftsman that she purchased at the beginning of the year, and this week she updated her social media followers on the progress. The "Good Girls" actress took to Instagram to show off her newly renovated bathroom, and you might become instantly obsessed with its boldness.
In a series of snaps shared with her 916K followers on March 20, Hendricks posted before and after photos of the now-colorful bathroom, taking fans throughout the design process from start to finish. And while the whole process is impressive, it's hard to ignore the eye-catching contrast between the tiles and the wallpaper.
"I've been excited to share the bathroom I just redesigned," she wrote in the caption. "I chose the navy flowered wallpaper and paint 10 years ago to add to the bathroom that existed when I bought the house, but it was time to design my dream bathroom. It's currently my favorite room in the house."
Commenting on the process, Hendricks continues: "Switched everything over to brass, all new marble, floor tile, newly designed sink, antique mirrors and sconces, and of course, the wallpaper."
Hendricks showcased the power of a bold floor and wallpaper combo, with the standout wallpaper perfectly contrasting the trend-led geometric tiles that adorn the entire floor. The marble basins add an extra luxurious touch to the room and the brass piping compliments the space further.
The bathroom quickly received a lot of love from Hendricks' friends and fans who have been sharing their admiration for the lust-worthy design. "Pretty!" said Hendricks' "Mad Men" co-star, January Jones, while actress Ione Skye commented "Wow wow wow I mean, Amazing!" But one of the best compliments, according to Hendricks, came from fashion designer Christian Siriano, who simply commented: "Stunning!!!!!!!!!"
For those wanting to have a go at attempting their own redesign inspired by her beautifully bold bathroom, there are plenty of ways to incorporate Hendricks' style into your own home. Stick on tiles are a quick and easy way to spruce up your space, DIY style. Choose a modern geometric design for an up-to-date look, like this one above.
As for the wallpaper, we couldn't find one quite the same as Hendricks, but we did find this abstract colorful version that can bring similar vibrancy into your space. For a sophisticated finish, opt for brass-toned furnishings; we're talking mirrors, sconces and accessories such as soap dispensers and toothbrush holders. And for a marble sink, this one is probably best left to the professionals.
A decade in the making, Hendricks noted that her latest deserves a "pink champagne party". Pass the bubbles!