A Sunny, 400 Square Foot South Austin Apartment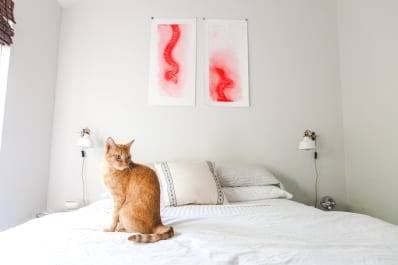 Name: Christina Clark
Location: South Austin, TX
Size: 400 square feet
Years lived in: Almost 1 year; Rented
While definitely qualifying as a small space, this newly-renovated apartment makes great use of its natural light and nice flow, making it seem much larger than it is. Tried and true elements including large windows, white walls, dark wood floors, and rich cabinet colors allow for a modern, yet classic appeal.
Christina grew up in Vermont and spent some time studying abroad in London. After completing school in NYC, she began her professional career there working in interior and furniture design. After a move south to Austin to continue working in interior design, Christina enjoyed the camaraderie and financial freedom that comes along with shared living experiences, but was ready to finally have a place she could call her own.
While the apartment is a rental unit, Christina was immediately drawn to many of the elements used in the renovation that she had used in her own design work for clients. From the beautiful green kitchen cabinetry and Carrera counters to the penny tile backsplash and brass pulls of the bathroom vanity, she lucked into a first place with some solid material decisions.
Meeting Christina, it was very evident that she was justifiably proud of her new place. She had made a conscious effort over the last several years to spend her money on art, and other artisan creations, that really had a special meaning in her life. The apartment is tasteful and restrained in its decor, and despite its size, is uncluttered and comfortable. We should all be so lucky to have such a wonderful space as a first place to call our own.
Apartment Therapy Survey:
My Style: Honestly, I don't think I have "a" style. My style is always changing and evolving.
Inspiration: Travel, fashion, and cinema.
Favorite Element: My apartment is the perfect amount of space for one person (and kitty Roxanne). It doesn't feel overwhelming, and I can comfortably fill it to make it feel like a home.
Biggest Challenge: Entertaining! I love to host friends but it is hard to have a cocktail party when I can hardly fit three other people in my apartment plus myself.
What Friends Say: My friends love my apartment. When I decided to move to this spot — and live on my own — I got a lot of "this is the perfect first apartment."
Biggest Embarrassment: Most of my adult life I had told myself that I would be "bad" living on my own. I will say, though — I relish all 400sqft as mine, all mine — it turns out that I'm really good at living on my own.
Proudest DIY: Sometimes it's the smallest things that make such a huge difference. I took off the awful glass shades of my ceiling fans and replaced them with slightly oversized clear round bulbs — so much less of an eyesore.
Biggest Indulgence: Art and jewelry. A few years ago I told myself never to buy art — for my house or my person — that I didn't love. I now have a nice little collection of both that I look forward to growing.
Best Advice: Trust your instincts — your personal style is personal. Sometimes less is more.
Dream Sources: As a designer, I have so many "dream" sources, but for something attainable, I have come to love an annual trip to Round Top, TX in search of treasure.
Resources
ENTRY
Mirror: West Elm
Mind Intern pencil drawing: by Sonny Day
LIVING ROOM
Wall hanging: YARD
Perfect In Our Imperfections print: by Scott Albrecht
Diamond print: a gift shop in Silver Lake, Los Angeles
Fado table lamp: IKEA
Armchairs: long-term borrow from my boss
Ottoman: IKEA
Mid-century side table: Craigslist
KITCHEN
BEDROOM
Red Serpent print: by Jack Sanders
I Am An Island print: by Jenn Ray
Crown: my dream crown- some dear friends and I made these a few years ago from fresh flowers at our "Friends-giving" celebration. To me, the crown represents family.
Ranarp wall lamps: IKEA
BATHROOM
Vanity wood boxes: Urban Outfitters
Follow Apartment Therapy's board House Tours Apartment Therapy on Pinterest.
Updated daily with fresh tours full of photos for you to pin & enjoy!
Thanks, Christina!