6 Things Every Pet Owner Should Know Before Bringing a Christmas Tree Home
We
independently
select these products—if you buy from one of our links, we may earn a commission. All prices were accurate at the time of publishing.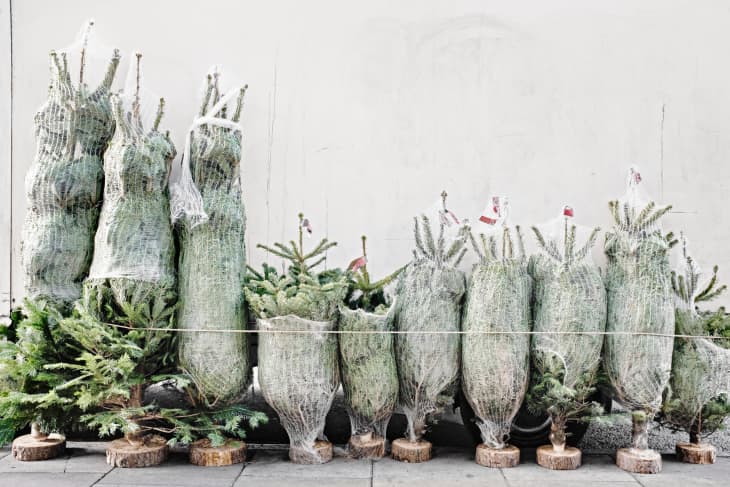 For many people, the holidays are the most wonderful time of the year, but it can be a confusing and dangerous time for pets. Holiday decorations pose unique risks, and that includes Christmas trees, as festive as they are.
If part of your holiday festivities involves setting up a Christmas tree — either real or artificial! — you'll want to take some extra precautions to keep your pets safe. Some pets have no interest in Christmas trees and other holiday decorations, while others will be very curious (and may even urinate on them and the presents underneath to mark their territory). There's also the matter of climbing — young and energetic cats especially may want to explore between the branches, which can send trees and ornaments toppling down. Here's what to know to keep them (and you!) safe.
Supervise your pets around all Christmas trees.
The best way to keep your pets safe around your Christmas tree is by supervising them anytime they are near the tree, and keeping them separated from the decorations if you're not home or are in another room. This will help you to keep your pet from getting themself into dangerous situations as much as possible.
Introduce your pets to the tree intentionally, especially if this is their first holiday season in your home and you aren't sure what (if any) exposure they may have had in the past. To do this, pair the introduction of the tree into your home with treats and toys, and don't allow your pet unsupervised access to the tree. 
Create barriers between your pets and your Christmas trees.
When you can't supervise your pets near your Christmas tree, create barriers between your pets and the tree to keep them safe. If possible, put your Christmas tree and other decorations in a room that can be closed off from areas of the home when you're asleep, away from the house, or on work calls. You can also put baby gates in doorways to block pets from being able to access a given room (just be careful that your pet can't jump over that barrier), or utilize x-pens or puppy exercise pens to prevent your pet from getting close to the tree. You can still see and enjoy your tree and all of its decorations, while the pen acts as a deterrent and keeps your pet safely away from it and the packages underneath it. 
Does your Christmas tree pose a fall risk?
One of the biggest safety concerns with Christmas trees and other hefty decorations is that they can topple over and injure your pets. (Broken ornaments can also be dangerous, so be careful as you're selecting which decorations to put atop your tree this year.) 
The risks associated with a toppled tree can vary from pet to pet. Dogs can get excited about the tree's presence and might try to jump into it in order to retrieve ornaments that may look like toys, while cats are natural climbers and may assume that it's intended to be a climbing toy. It's best to prevent your pet from having access to your Christmas tree, but you can also anchor the tree to your ceiling and walls with fishing wire if you want to take an additional precaution and keep it from falling over.
Don't let your pets drink Christmas tree water.
If you opted for a live Christmas tree this year, the water in your Christmas tree stand can breed plenty of bacteria that is harmful to pets. Additives designed to help Christmas trees live can contain potentially harmful fertilizers, depending on their ingredients. Be careful to read the labels of any additives before you buy them, and be sure that your Christmas tree is in a location where pets are unable to access it and drink from the water. 
Christmas tree ornaments can be dangerous on their own.
One of the primary dangers for pets during the holidays are decorations, and that includes ornaments you hang from a tree or garland. It's important to keep your pets away from decorations of all kinds, as chewing or ingesting them is a recipe for injury. That goes double for extension cords and Christmas tree lights, which can pose electrocution risks if your pet chews on or tries to play with them. 
Glass ornaments might look pretty, but they shatter easily, and might cut your pet's feet; other pets might try to eat the ornament or a piece of shattered glass. Salt dough ornaments are also toxic to pets given the amount of salt in the dough, which is what enables them to harden and be preserved year to year; it can lead to a toxic electrolyte imbalance for pets. And though tinsel isn't breakable, it can still pose a risk to pets who think it's a snack, and lead to serious obstructions and surgical intervention. 
Finally, many snow globes and snow globe ornaments include ethylene glycol, which is very toxic to pets and can be fatal if consumed. Unfortunately, much like antifreeze, the compound contains a sweet scent that can attract pets to eat it. Ultimately, it's important to make sure your pet doesn't get their paws on your decorations — and you can do so by keeping them away from the tree.
It's always a good idea to make sure that you have your vet clinic's number easily accessible, and that goes double for the holiday season. If you're traveling with your pet, be sure to look up veterinary clinics that are close to where you will be staying — and if you are going out of town and have a pet sitter, be sure they know your vet's number as well as the easiest way to get there. 
Unfortunately, many clinics are experiencing staffing shortages and have had to significantly reduce operational hours, so double check that general practice and emergency clinics are open and what their hours are. The ASPCA Pet Poison hotline is a great 24/7 resource to have accessible in case your pets get into something they shouldn't while you're decorating the Christmas tree. They will be able to walk you through options and help you decide if your pet needs immediate veterinary care.