It's That Time of the Year: Wreath Witherspoon Is Back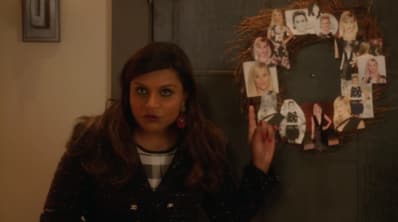 (Image credit: Hulu)
Way back in 2014, Mindy Kaling and her TV show alter ego graced us with one of the most punny holiday decor items to ever exist: A wreath decorated with photos of Reese Witherspoon. A Wreath Witherspoon, if you will. Well, the style statement is back—perfect for the big year both women have had.
To recap: In season 3, episode 11, aptly titled "Christmas," celeb-obsessed Mindy Lahiri arrives as boyfriend Danny Castellano (played by Chris Messina) is decorating the tree.
"Where's my Rihanna tree topper?" Mindy asks.
Danny responds: "A Christmas tree is no place for exposed breasts, you're lucky I let you put up that wreath."
Mindy replies, "Wreath Witherspoon? This is the nicest thing in your apartment."
#WreathWitherspoon was soon trending on social media, with fans sharing their own DIY versions, adorned with many faces of the Legally Blonde star.
Reese herself weighed in, giving her gracious approval of the homemade homages:
Last week, Mindy posted a #TBT (or #FBF, actually) to the crafty craze, reigniting our motivation to whip out those glue guns:
Witherspoon chimed in in the comments, saying, "Well.. yes, yes I do."
To be honest, 2017 would be a great year to hang a Wreath Witherspoon; The Oscar winner was part of the all star cast of HBO hit show Big Little Lies, which snagged a ton of Emmy noms and won the award for Outstanding Limited Series (and is rumored to have a second season on the way). She also signed on as a holiday brand ambassador for Crate & Barrel, plus a new show with Jennifer Aniston is in the works.
It's been a year of big changes for Kaling, as well. The series finale of The Mindy Project aired in November, but the show runner also announced that she's pregnant with her first child. Not quite as newsworthy, but she did have her home featured in Architectural Digest in July.
You can stream the Christmas episode—and all of The Mindy Project—on Hulu.