These Handy Dice Reinvigorated My Workout Routine and Made It Fun — Here's How
We independently select these products—if you buy from one of our links, we may earn a commission. All prices were accurate at the time of publishing.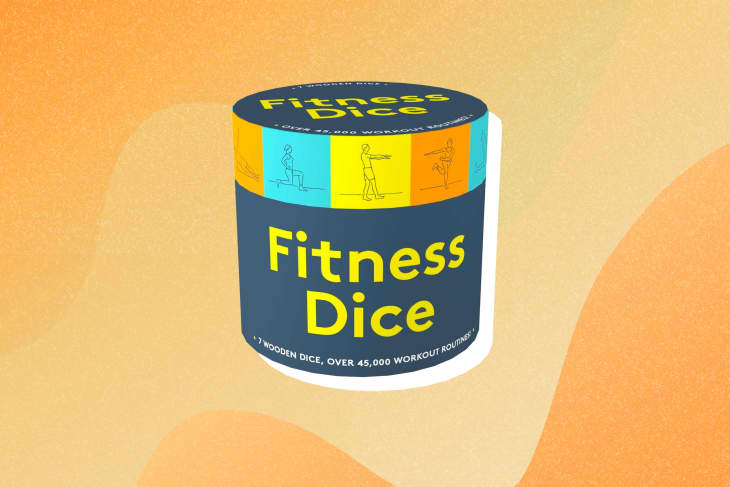 With this month marking one year in lockdown, I began March by reflecting on the good habits I picked up over the last year. From dusting off my electric guitar again to incorporating better sleep habits, a lot has changed for the better. But one thing that hasn't seen much change is my exercise routine. Since the start of WFH-life, my at-home workout has mainly consisted of two things: a morning stress-relief yoga flow and an afternoon walk (outdoors in good weather, on the treadmill during the winter). But lately, even these simple tried-and-trues have become a struggle. While on the hunt for something to shake things up, I came across the perfect motivator: a set of Fitness Dice.
This handy kit comes with seven wooden dice and an instructional booklet filled with 36 different exercises, meaning there are over 45,000 sequence possibilities. Six of the dice feature pictures of exercises in a different area of focus — lower body, upper body, chest and back, core, cardio, and full-body — while the seventh offers either a rep or time component. To use, simply roll the dice, find the corresponding numbers/pictures in the booklet, and you'll be set with a fun and effective way to get a new full-body workout every time.
I'll be completely up front: I was really looking forward to testing these dice. As my routine had grown so stale, I had high hopes that these dice would get me excited about working out, and thankfully, they did. With this set, I'm able to approach fitness in the best way possible: as a game! Something about rolling the dice and creating a new routine every time brought me back to the fun of recess as a kid — when I didn't know exactly what I'd be doing but was excited to get out and move nonetheless. Because when it comes to staying active, the best way to keep up a routine is to make it fun, no?
At $22, this compact dice kit has become my new favorite piece of fitness equipment. And while I'm personally a fan of the Fitness Dice, if you prefer a different kind of workout, Chronicle Books also makes a set of Yoga Dice! Either way, these fun dice sets are bound to give your fitness routine the jolt it needs. So place them near your home exercise setup, bring them to the park, or throw them in your weekend getaway bag. Wherever you use them, they'll keep you moving and make it fun. So let's go — it's time for recess.