7 Cheap Cities Where You Can Actually Afford to Pay Rent
We
independently
select these products—if you buy from one of our links, we may earn a commission. All prices were accurate at the time of publishing.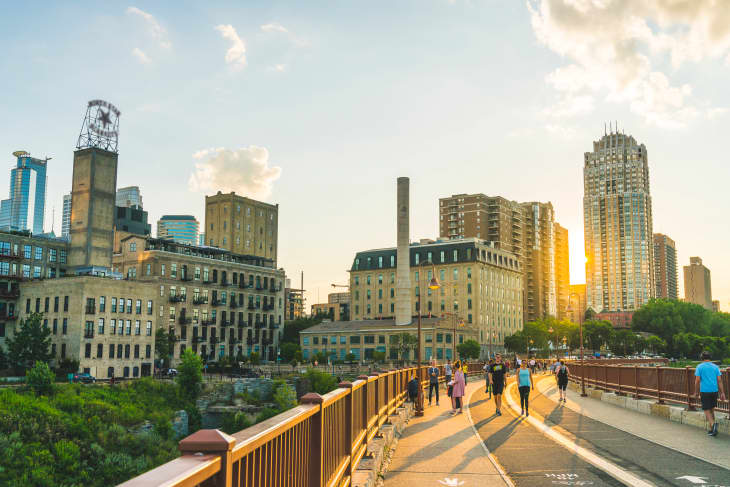 A big way to lower your expenses? Move somewhere with cheap rent. And, since many people are moving around right now because of the pandemic and added work flexibility, there are some surprisingly affordable cities for renters these days.
If you're on the hunt for a fresh start, here are seven cities where it's cheap to rent an apartment right now.
Median rent price: $1,244
Minneapolis — and neighboring Saint Paul — is the perfect happy medium: It has the friendly, Midwestern charm of a much smaller town and many of the big-city amenities you'd find in New York or Los Angeles. It's one of the more affordable large cities out there, too: Residents spend about 24 percent of their income on rent, according to an analysis by AdvisorSmith, a small business research site.
From its thriving live music scene to trendy neighborhoods like the Blackstone District, Omaha is a seriously great place to live (and, if you enjoy college football, you can also easily road trip to nearby Lincoln to watch the Cornhuskers play on Saturdays in the fall!). Omaha has a low cost of living, so your paycheck stretches further here — locals spend less than 20 percent of their income on rent, which is a steal.
Median rent price: $1,743
This one might surprise you, but Seattle rent prices dropped more than 8 percent between 2020 and 2021, according to an analysis by moving company Move.org. If you've ever wanted to live here, now's your chance to sign a more affordable lease. Because salaries tend to be pretty high here (hello, tech companies!), residents spend just 23 percent of their income on rent, which isn't bad.
Median rent price: $1,052
Albuquerque's dry, temperate climate, abundant arts and cultural activities, and incredible food scene make it stand out from other cities in the Southwest. The fact that rent here hovers around $1,000 a month is a (big) bonus when you consider all that this historic city has to offer. If you're looking to transition in your career, Albuquerque can help with that, too — large employers like Sandia National Laboratories are here and the city has a burgeoning TV and film industry.
Median rent price: $1,309
You'll be far from friends and family, but you're almost guaranteed to meet new people by moving to Anchorage and picking up a new, outdoorsy hobby like fishing or hiking. This Alaskan city's residents have a median annual income of $84,928, which makes it so that they only have to fork over around 18.5 percent of their paychecks to the landlord.
Home to Wichita State University, Wichita has a fun, fresh energy, a hip downtown, and a supremely affordable cost of living. Case in point: Your rent may not even top $800 in this mid-sized city in south-central Kansas. With all the money you have leftover each month, you can afford to buy a kayak and start exploring the Arkansas River.
I'm not going to sugarcoat it: Minot gets really, really cold in the winter. But because of the chilly weather, Minot residents really know how to embrace the cold, taking up fun sports like ice fishing, snowmobiling, snowshoeing, and "Crokicurl," an icy hybrid of curling and the Canadian board game Crokinole. When you start to add up all the money you save while living here (residents spend just 17 percent of their income on rent!), you may just be willing to hold out until summer, which is absolutely gorgeous.