Classic American Design: Shaker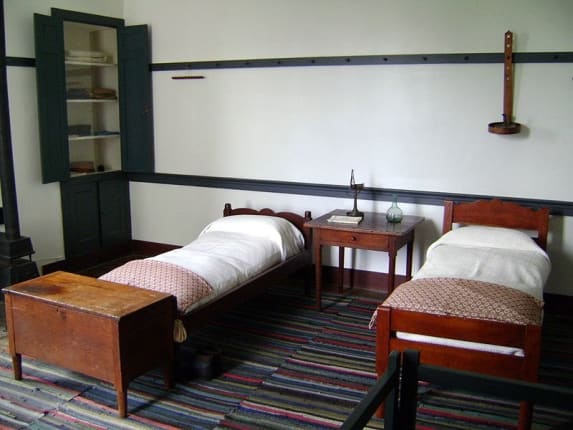 Tis The Gift To Be Simple
. Down to the last detail, Shaker rooms and furnishings are known for their timeless simplicity and practicality. While only a handful of Shakers themselves remain today, their handiwork has become a standard of American furniture style and craftsmanship.
From a religious and social standpoint, Shakers were radicals when they arrived in New York from England just before the American Revolution, in 1774. Like Quakers, they are pacifists. In contrast to the Quakers and most other religions, the Shakers, officially the United Society of Believers in Christ's Second Coming, began with a woman leader. Ann Lee, also called "Mother Ann," brought her Shakers to America, and her followers were held as equals regardless of their sex. Notably, Shakers do not marry, and they take a vow of celibacy — the focus is on the community as family and over the individual.
Before the Civil War and subsequent industrialization, Shaker membership peaked at about 6,000 people. (Since sex was verboten, Shakers relied on adoption and conversion.) Shaker villages, generally maintained as interactive historical sites, can be found from New York to Massachusetts to Kentucky. Simple and handmade design predominates these communities, whose guiding tenet was "hands to work, hearts to God."
Historian Ken Burns explains, "Work was the currency of their service...They believed that God dwelt in the details of their work and in the quality of their craftsmanship." Shakers are credited with inventing metal pen nibs, the flat broom (as seen in Image 4), and even the circular saw. In addition to emphasizing utility, Shakers valued beauty; after all, they also have been known for their music and, originally, dancing. You can see creative flourish in the woven seats and backs of their chairs, the painted blues and yellows of the beams, window frames, and buildings, and the colors of the striped rag rugs.
Today, the remaining three Shakers live in Sabbathday Lake, Maine — hear their insight into the Shaker way of life in this PBS interview. These days, as far as building furniture, many Amish woodworkers and others without a particular religious motivation or affiliation have taken up where Shakers left off. (To clarify, while they also value simplicity and hard work, Amish are of Swiss and German origin with a distinct history.)
While Shaker furniture can cost a pretty penny because of the high-quality materials and craftsmanship, know that many sellers offer kits, especially for chairs. My parents bought one years ago for our dining room table and stained the wood, assembled the pieces, and wove the seats and backs themselves. It gave them the satisfaction of their handiwork and saved a few hundred dollars in the process — and yes, those chairs are very comfortable.
IDEAS FOR BORROWING FROM SHAKER STYLE
• Keep it simple: Simple doesn't have to mean boring. Don't be afraid to leave certain corners bare or save color for select areas.
• Invest in quality: Pick pieces that will last for years. A Shaker chair can easily cost hundreds, but its materials, construction, and clean lines will stand the test of time.
• Use the wall: Shakers keep everything from candles to brooms to chairs on walls. Shelves, hooks, and pegs can help you keep clutter off the floor and tabletops.
RESOURCES FOR SHAKER FURNITURE
• Shaker Workshops: Reproduction Hardwood Furniture
• ShakerStyle
• Richard Bissell Fine Woodworking
• Vermont Wood Studios
• The Shaker Shoppe
MORE SHAKER STYLE ON APARTMENT THERAPY
• House Tour: Shaker Brick House
• House Tour: Shaker Color and Details
• Summer Tablescaping in a Shaker Home
• Shaker Garden Shed: Get the Look
• Look! Shaker Organization in Hancock Village
• 5 Home Office Ideas to Steal from the Shakers
• Wall-Curtains: Shaker Design for Drafts
Images: 1. Irene Morton Banks 2. Maxwell Gillingham-Ryan 3. Britannica Online Encyclopedi 4. Sarah Coffey 5. Maxwell Gillingham-Ryan 6. American Pilgrimage 7. Maxwell Gillingham-Ryan 8. Life, Birding, Etc. 9. West Elm 10. Design Within Reach
Re-edited from a post originally published 7.29.11 - JL
Apartment Therapy supports our readers with carefully chosen product recommendations to improve life at home. You support us through our independently chosen links, many of which earn us a commission.