You Really Need to Clean This Part of Your Kitchen Every 6 Months, According to an Appliance Repair Pro
We
independently
select these products—if you buy from one of our links, we may earn a commission. All prices were accurate at the time of publishing.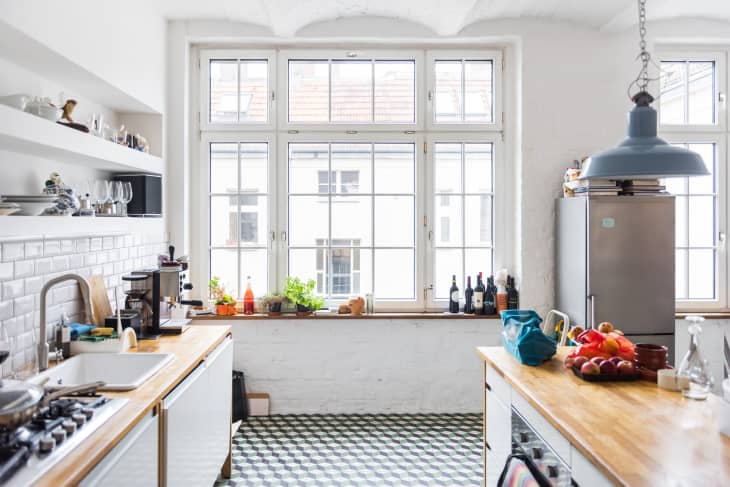 There are plenty of reasons why your electric bill may be skyrocketing this winter. One of them, unsurprisingly, might be in your kitchen. When was the last time you looked behind your fridge or beneath it? If your answer is never, those hidden, dirty fridge coils could be a big culprit. Luckily, there's hope! Turns out, cleaning your dusty coils every six months could save you big bucks.
That's what we learned when we recently came across a TikTok video, made by repair service HomeServe, instructing people on how to do just that. A lot of viewers had the same reaction. Mostly, they wondered what, exactly, are fridge coils? And they asked how much trouble we were all in for never having realized they existed and needed cleaning. 
The good news is, you're probably fine. But (and it's a big but) your fridge might not be cooling to its fullest potential and could be using excess energy (and possibly driving up your electric bill). The thought of cleaning dirty coils sounds difficult, but HomeServe managing editor, Matt Schmitz, assured us it's really no big deal. Here is everything you need to know — what fridge coils are, where they are, and how to clean it.
What are fridge coils, and where would I find them?
At a very basic level, a chemical coolant is passed into your fridge and heat is removed and released from your fridge via coils. These are typically black metal, wire-y, and found at the back of your fridge or underneath it toward the front or back. The coils are exposed most of the time, but there could be a panel or grate covering them up. If that's the case, you may need to open it up with a screwdriver or Allen wrench. Consulting your manufacturer's instructions will help you find the coils quickly. 
So, how do I know if I need to clean them?
Coils collect dust, so if you haven't looked behind your fridge in a while — "it might look like your coils are wearing a sweater," Schmitz says. "When dust and debris build up on the coils, it impedes your refrigerator's ability to cool itself." This means your fridge has to work harder to do the same job. Other than dust, another red flag is a clicking noise. Your fridge will make this noise if the coils really need to be cleaned. Schmitz says it's unlikely that a fridge will die because of dirty coils, but over time, they can negatively affect your appliance's efficiency. 
Now what? Can you tell me how to clean them?
First, you'll want to unplug the fridge. Next, move your fridge away from the wall (use furniture sliders or try cardboard, if needed). Use a regular vacuum cleaner with a standard or brush attachment to suck up the dust and dirt behind the fridge and around the coils. Be careful when cleaning. Although the coils aren't fragile, they can be damaged if you use too much force. The whole process should take less than 15 minutes if you know where your coils are — so your food won't spoil while you do it. 
How often should I do it?
Schmitz suggests you should clean your coils at least every six months, but that depends on your household. For example, if you have pets, you may need to do it more often, because pet hair can gather on the coils along with dust. Realistically, Schmitz says, if you do it even once or twice a year you'll be in good shape.
Do you have any handy tips for cleaning your fridge coils? Tell us in the comments below.