5 Ways to Take Your Cleaning Routine Outdoors and Enjoy This Weather
We independently select these products—if you buy from one of our links, we may earn a commission. All prices were accurate at the time of publishing.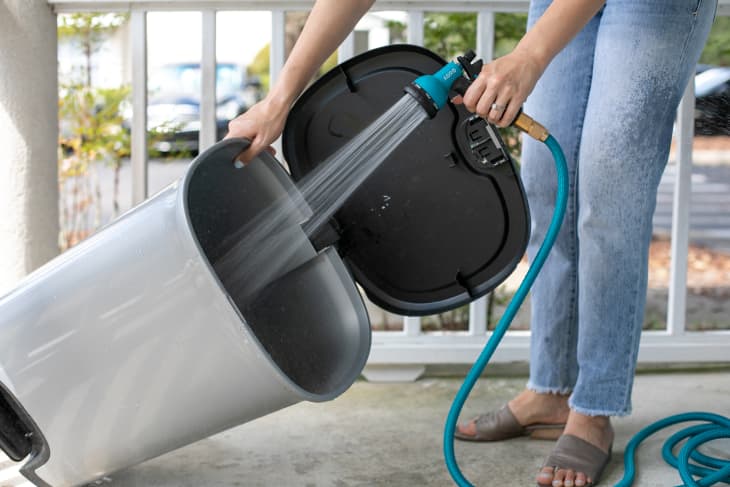 It's happening. Store shelves are filling with candy corn, gardening in the afternoon isn't an actual sweat bath, and I'm in possession of three giant, fluffy pots of pink mums with bursting buds. Fall is officially here, and with it, some of the best weather of the entire year.
Definitely don't spend all your perfect weather energy on cleaning, but also don't let the weather go to waste, even when you have to clean. Whether you bring some of your chores outside or choose to take on some bigger cleaning tasks that are better done outdoors, using this Goldilocks not-too-hot, not-too-cold season to your advantage allows you to enjoy it to the fullest.
Here are some cleaning tasks you can do outdoors:
How revolutionary to spread out the picnic blanket in your yard or sit at your outdoor dining table and bring out that basket of laundry to fold in the fresh air, right? Not only will you get to enjoy the sights, sounds, and feel of being outside, but maybe, just maybe, your clothes will take on some of that fresh outdoor scent.
I know, I know. This sounds gross, but I'll tell you what: deep cleaning your garbage cans outside is far more pleasant than doing it indoors. First off, you can use a hose to spray it down. That alone makes the onerous task far easier and more hands-off. In addition, you won't need to clean up a lot of the dirt and grime that comes off of your garbage cans because it pretty much disappears into your grass. Lastly, letting your garbage cans dry in the sun is an extra step of disinfecting.
Is there a more idyllic housekeeping scene than hanging white sheets on an outdoor clothesline in a warm breeze? A retractable clothesline makes it easy. You'll dry your sheets without using electricity, they'll whiten in the sun, and they will smell heavenly when you go to bed.
Clean your patio and outdoor furniture
If you have a power washer, now's the time to whip it out. If you don't have a power washer, you can spot clean your cushions or use an upholstery cleaner. You can also soak your pillows. Not only is it nice weather for doing the job, but if you time it right, you'll get to enjoy your nice clean patio and fresh patio furniture during temps that are cooling off pleasantly.
Do some garden maintenance
To call gardening a cleaning task might seem like a stretch, but trimming your shrubs and weeding your flower beds is like cleaning your landscaping. Getting outside while the weather is no longer too hot and not yet too cold adds another lovely layer to your gardening therapy.