Goodbye, Fickle Soap Dispenser — 8 Aging Cleaning Items I'm Officially Giving the Boot
We independently select these products—if you buy from one of our links, we may earn a commission. All prices were accurate at the time of publishing.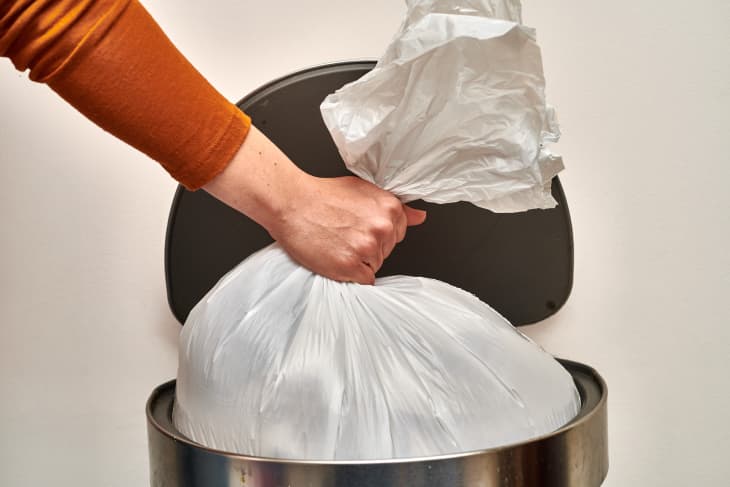 We're moving for a "fresh start," and that means so many things. From setting ourselves up to make the kind of life we dream of possible for our family to leaving some painful experiences behind in the place where they happened, we're very much looking forward to a clean slate and new beginnings. 
Here's what I've decided: I'm going to give this category of belongings the new start treatment too. I'm not going to take up room (or pay for it!!) on the moving truck for items that are downright, frankly, gross or simply no longer useful. I'll let them go and pick up some replacements for our new house. (I know it's a privilege to be able to approach decluttering for our move this way, and I'm grateful that I'm in a position where I can plan to refresh our cleaning tools before entering our new space.)
But you don't have to be preparing for a big move to find this exercise useful. Perhaps this purge might inspire you to take a closer look at which cleaning products in your home are overdue for a replacement. Here's a rundown of the cleaning items that I discovered are just too dirty or nonfunctional to take with us: 
I do not want to deal with these leaking or splashing or anything of the sort. They will get tossed and I'll pick up new, clean ones for each of the bathrooms at our new house. (I prefer the simple, inexpensive IKEA toilet brushes.) I also think I'll take the opportunity to switch from white to black. 
Do liners always get put in the little garbage cans that are in my kids' bathrooms and under their desks? No. Are there dried slime and stuck-on Airhead wrappers and concoctions of glue and glitter plastered all over them? Yes. Can I clean them? Probably. Do I want to spend time doing this while our entire life is upended? Nope! These are getting replaced too. 
Our large kitchen trash can.
I haul this garbage can outside and clean it regularly, with a hose and scrub brushes and the disinfecting power of the sun. But I'm not using up moving truck real estate to move it to our new house. We'll have pull-out trash cans in our new kitchen and, while our current trash can has served us so well, I won't be sad to leave it behind. 
It's time to replace our O-Cedar mop heads anyway, and I'm going to time it so that I toss the old ones as we leave this house and buy fresh ones for our new space. 
I have so many again all-purpose cleaners, glass cleaners, and specialty cleaners that are less than half full and they're not worth carting to our new house. First, I'll consider whether they're expired (many expire after two years). Then I'll pass along what I still have to friends and neighbors and go only with what we need for our new house. I'm thinking I may just buy refillable bottles so I can work through my Safely refills. 
Soap dispensers that aren't working well.
I love using foaming soap dispensers, but we have a few that we've had for years that don't dispense without some special jiggling and wiggling. It's time for these to get tossed and replaced with fresh ones that work effortlessly. 
A broom that's seen better days.
I'm all about prolonging the life of cleaning tools and supplies. But it's time for our current broom to go. The bristles are worn down and uneven and the dustpan has a crack that makes it really difficult to scoop up dirt. 
I'm not going to get rid of all our rags, but I will leave behind the ones that are torn, frayed, bleached, or stiff and scratchy.