7 Brilliant Tricks Home Stagers Use When They Don't Have Time to Clean
We
independently
select these products—if you buy from one of our links, we may earn a commission. All prices were accurate at the time of publishing.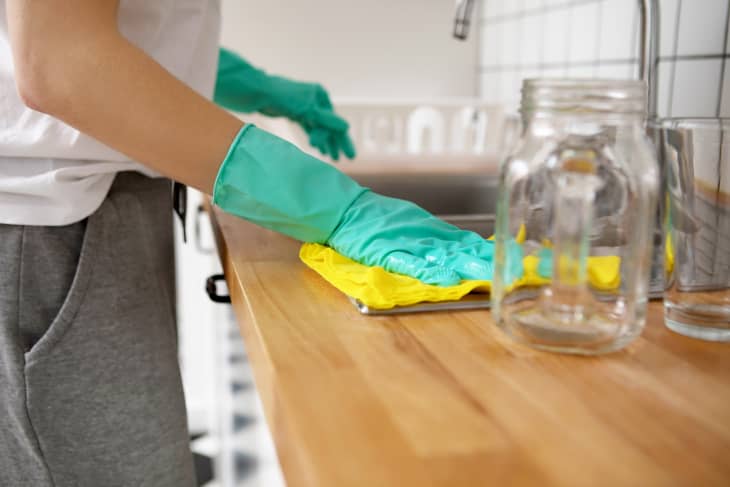 Making your home "showing-ready" can be overwhelming for any seller, outgoing renter, or even party host. But let me let you in on a secret: Your house doesn't have to pass a white-glove test to impress buyers. It does, however, need to at least look clean and tidy. Thankfully, professional home stagers have an arsenal of cleaning tricks that will leave your home looking sparkling. The best part? If you follow their advice, you'll only spend minutes—not hours—cleaning. Here, seven of their most clever solutions.
1. Pull out that hand steamer
Grime on glass shower doors or curtains can make your bathroom look grubby. To remove them in a flash, use a handheld clothing steamer, suggests Justin Riordan, founder of Spade and Archer, a Pacific Northwest design agency.
2.  Pick up a magic eraser
Have an unsightly nick or teeny hole in your white walls and running short on time? Lorenz says to skip the spackle for now. Instead, dab a bit of white toothpaste in the crevice to give the appearance of a patch.
While your phone chargers and appliance cords may not register as clutter to you, a potential buyer may take notice. Marty Basher, a home organization expert with Lakewood, New Jersey-based Modular Closets, recommends unplugging and stashing any stray cords. For any cords that need to stay plugged in, Basher says to get them out of the way by running them along baseboards or even under rugs (just pull them out after the showing as they can overheat and start a fire!)
A home's smell can affect how clean a person perceives it. Open the windows to quickly air out bad odors before the showing (just make sure there are screens so as to not invite in bugs!), says Caroline Harmon, a trends analyst at Lowe's. She also suggests bringing in plants from other rooms to add to a clean, calm, and relaxed vibe.
Have a piece of upholstered furniture that smells a bit funky? Lorenz recommends sprinkling some baking soda on the fabric, letting it sit for 15 minutes, and then vacuuming it up.
7. When all else fails: Hide it
Got ugly electric sockets or other unsightly features you'd like to disguise? Hide 'em with something better looking, like framed art, for a relaxed and modern vibe, says Marlene Fao of London-based My Mindful Home.
Also, if there's a bedroom, loft, garage, or garden shed that's not being shown, Fao says to feel no shame about using the space as temporary mess overfill! Prepping your home for guests is hard enough as it is—this is all about advantageously using your space.
Got a little more time on your hands and want to make your space really shine to potential buyers? Take on these five essential staging moves.
More great Real Estate reads: