This TikToker Has a Smart Way to Hide All Your Shower Clutter
We
independently
select these products—if you buy from one of our links, we may earn a commission. All prices were accurate at the time of publishing.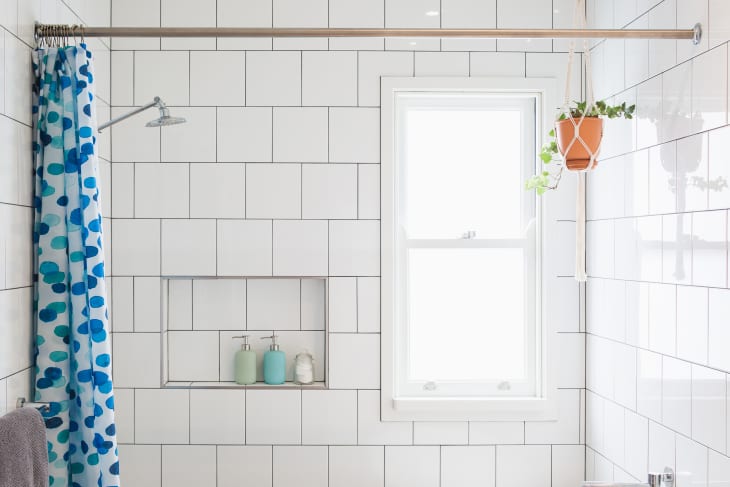 If you're someone who hates seeing bottles in your shower — even if they're all matching — then this reno idea is for you. 
TikTok-famous architect, builder, and interior designer Robert Berger (@robertmberger) shared a recent home renovation that solved his client's problem of having unsightly shampoo bottles in the shower. The trick? Build shelving into a concealed wall.
But maybe Berger and I are moving too fast. After all, many commenters didn't know what this was before seeing his explanation.
"This is the first time I've ever heard the term 'shampoo niche,'" one TikTok user commented. 
This niche encompasses the storage space in the wall of a shower that holds shampoo, soap, and other products. It's usually centered on the main wall, making it so anyone who enters your bathroom can see which brands and scents you like to stock up on. While streamlining these bottles is nothing new, some people would prefer not to see the bottles at all. Berger's client was one of them. 
In the video, Berger walks his followers through the bathroom renovation, showing the process of building a vanity next to the shower that holds a shampoo niche — which makes it possible to keep toiletries tucked away unless his client is in the process of lathering. He even added a shaving shelf to help balance a leg at an angle during this grooming process.
 "This man knows what a woman wants," one TikTok user said. Another added, "FINALLY! A man that understands shaving legs!"
With more than 15 million views and counting, it's clear there are a lot of people looking for a solution to their sudsy products. It could also be that they just appreciate Berger's attention to detail. 
"As a craftsman for the past 25 years, I appreciate the hell out of the thought and design. Love it! Very well done sir!" shared one TikToker. 
Either way, this idea is a perfect way to conceal your products if you're getting overwhelmed by shower clutter.