This Bamboo Toilet Paper Is My Favorite Unlikely Subscription
We independently select these products—if you buy from one of our links, we may earn a commission. All prices were accurate at the time of publishing.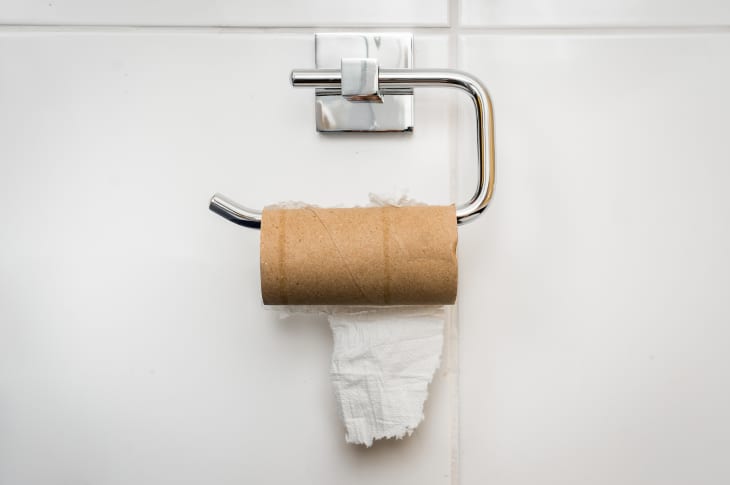 The one place in our home that my husband and I like to splurge on is our bathroom. We have fluffy towels, a bidet, and pretty hand soaps, all for the sake of creating a spa-like experience in the comfort of our own little condo. I've been on a quest for much of this year to make easy, sustainable swaps for household items I use every day, and I didn't necessarily think much about our bathrooms. Little did I know that there actually is a simple, eco-friendly swap that was staring me in the face — and it was our toilet paper. 
Follow Topics for more like this
Follow for more stories like this
So I'll be real — yes, we have bidets that attach to our toilets and they have changed our lives (seriously, bidets are amazing) but we don't have ones with fancy driers, and toilet paper is still a necessity, at least for us. According to Treehugger, a single roll of toilet paper you'd buy at the grocery store uses 1.5 pounds of wood and 37 gallons of water, which is… not great. Plus, Americans lead the way when it comes to toilet paper consumption. The average American will go through 141 rolls of toilet paper a year, according to Statista.
Having a bidet means we're definitely not using as much TP as we used to, but I decided it was time to try a sustainable alternative. Bamboo toilet paper is a great substitute for your typical toilet paper, since it grows much quicker than trees (they can grow up to three feet in a day!), can be grown in a variety of climates, and it doesn't need to be re-planted once it's harvested.
When the team at Cloud Paper reached out to me and very graciously sent me some of their bamboo toilet paper, I was intrigued and excited to try. I was nervous it might be rough and too much like literal paper (go figure), but luckily, my assumptions were totally wrong. Cloud Paper proved to be soft, strong, and of course, sustainable. My husband and I were used to heavy duty, super-soft toilet paper, and although Cloud Paper's bamboo paper is a little thinner, it didn't take long to get used to the new texture and feel of it. It's three-ply and a roll is just as large as what we would normally use (we opt for mega rolls). It's even soft enough that we don't miss our old brand at all. I've never used other brands of bamboo toilet paper, though had heard that they can be a little non-absorbent, but that's not the case at all with Cloud Paper. This TP is strong, it's soft, and it saves some trees!
Cloud Paper offers a subscription service, which I've now signed up for, and you can set up auto-orders based on how many people are in your household. A box comes with 24 rolls, and Cloud Paper will send you a new box every two, three, or four months. They give you a three day heads up before they ship, it arrives with plastic-free packaging, and you can cancel or delay shipments easily. I for one love not having to worry about buying toilet paper at the store anymore, and at $34.99 a box, it's cost effective as well.
The one drawback, at least for our household, is having 24 rolls of toilet paper arrive all at once. Our bathrooms are small, so we get creative when it comes to storage. Other than that, the decision to subscribe was a no-brainer. We like using a product that's a little kinder to the planet, and most importantly, the swap was ridiculously easy to make. The switchover wouldn't work unless the product was just as good as the alternative, and I'm happy to say that Cloud Paper toilet paper passed the test. Here's to not worrying about picking up toilet paper at the store anymore, and saving trees in the process.