This TikToker Flipped a Free Find into a Statement Coffee Table
We independently select these products—if you buy from one of our links, we may earn a commission. All prices were accurate at the time of publishing.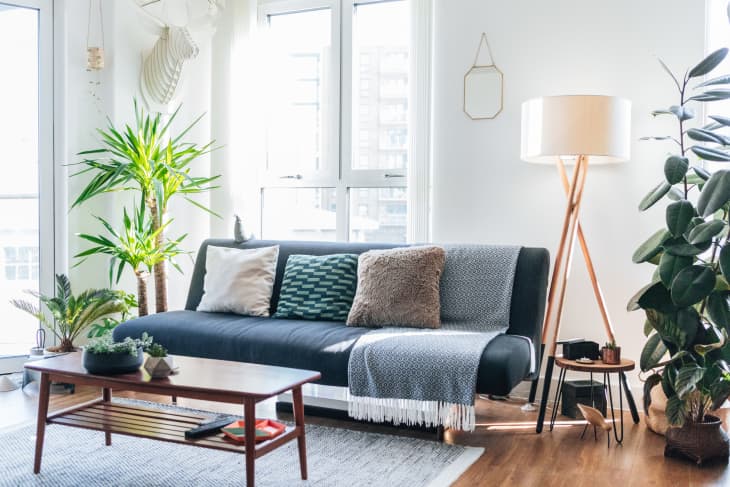 You've heard the saying, "One man's trash is another man's treasure," but have you ever experienced it? The thrill of finding an item on the side of the road that has the potential to be an upcycled masterpiece is a relatable rush that one TikToker felt when she stumbled upon a coffee table.
Follow Topics for more like this
Follow for more stories like this
McKay (@designsbymckay), who creates furniture flipping content on her TikTok, had a feeling that the table could have a second chance, and she was definitely right.
"One man's trash is another man's $400," she captioned her video. "I hardly ever come across free furniture on the side of the road or in the trash in ATL, but I managed to find some today."
Once she brought the triangular table back to her home, she began stripping the table's top and combined a carbide scraper with a sander to finish the rest of the first step in her upcycling process. The table's legs and shelf, which were previously a black color, were repainted a charcoal gray. To finish the process, McKay added a light paint wash to the table top, which resembled a smooth, wooden surface once done.
In the comment section, some were inspired by McKay's DIY, and it makes sense with this minimal-effort upgrade. "So I have this table," someone commented. "It's definitely seen better days, and I have been wanting to do something with it. I LOVE this idea! Great job! I love your work."
Others pointed out that the table's shape resembled something a bit supernatural.
"It looks like you could have also flipped it into an ouija board piece for the spooky girls," one user commented. And they're right — the table's triangular shape looks exactly like the planchette piece from a ouija board. 
Regardless of how it's shaped, McKay's DIY was sold for $400, and she inspired others to slow down and keep an eye out for furniture that deserves a second chance.