Creating a Color Palette is Suddenly Simple Thanks to These Two Apps
We independently select these products—if you buy from one of our links, we may earn a commission. All prices were accurate at the time of publishing.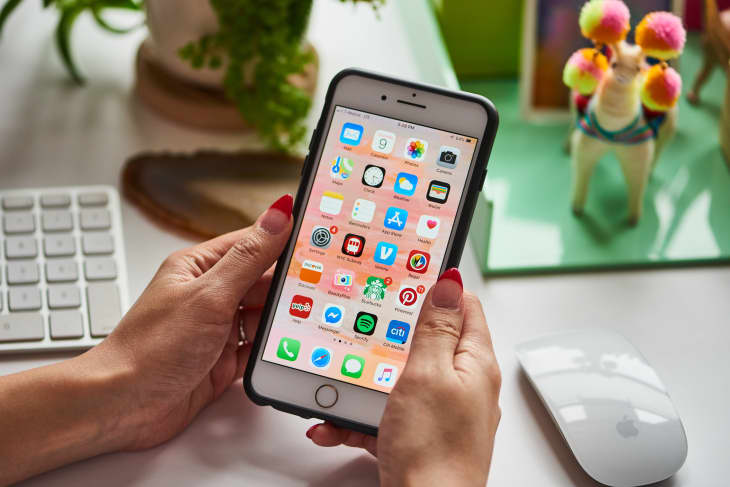 There are a lot of surprisingly difficult aspects of designing a room. For lots of people, the biggest challenge is choosing a color palette. If you want to bring some trendy hues into your home but don't know how, or you aren't sure what colors to incorporate into your all-white space, you aren't alone. Thinking about it too hard is enough to make a person dizzy but, of course, there's an app for that.
Franchesca Ramsey is a TV writer, actress, and author who makes decorating with color look completely effortless in her 898-square-foot Los Angeles rental. Her lavender living room is adorned beautifully with a gallery wall showcasing hints of purple, cream, and mint. There's wall with a graphic mustard yellow mural effortlessly partners with shades of green, ivory, and brown. And to add icing on the very well-decorated cake, she even has a workout room that sports a yellow painted sunrise painted perfect on top of a deep turquoise sky. 
So, how exactly did Ramsey do it? Well, she definitely didn't whip out a color wheel or hire an interior designer. "My hack for getting artwork, accessories, and paint colors to perfectly complement each other is the Coolors app," Ramsey says. And she uses this app to create color palettes for every single room in her home. 
"Basically you pick one or two colors you like and then the app will pull complementary colors for it," Ramsey explains. "Then I took screenshots of those palettes and used Home Depot's ProjectColor app to find the exact paint colors!" According to Ramsey, you can even use photos of artwork or items in your home to color match in both apps which definitely comes in handy if you buy after first, then decorate later. 
If tracking down the perfect paint colors for your space is feeling like a major headache, then this app will be music to your ears. Between the Coolors app and the Home Depot ProjectColor app, crafting a color palette really should be a breeze for you just like it is for Ramsey.