This House's Pink Door Is Just the Start of Its Color Journey
We independently select these products—if you buy from one of our links, we may earn a commission. All prices were accurate at the time of publishing.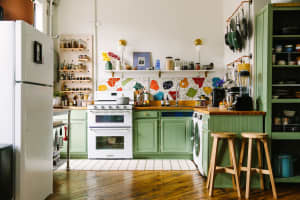 Can't-Miss House Tours Straight to Your Inbox
Keep up with our latest house tours each weekday with our House Tour of the Day newsletter
Name: Siblings Sophie Loghman and Saba Loghman own the house together, but are currently Airbnbing it.
Location: Historic Cabbagetown neighborhood — Atlanta, Georgia
Size: 1100 square feet
Years Lived In: Less than 1 year, own
Sophie Loghman says she was on the hunt for a smaller, shotgun-style house in Atlanta's Cabbagetown neighborhood when, while she was on vacation, her brother Saba Loghman forwarded the online sale listing for this house, originally built in 1920 and brimming with architectural charm. It was perfect for her, and since purchasing, she's infused the entire small space with her signature colorful design style–which she describes as a catch-all mix of mid-century modern and contemporary with some Hollywood glam and vintage.
Unfortunately, after getting engaged to her fiancé Michael, the couple realized the home was a bit too small for them, but Sophie wasn't ready to give up this fantastic space. So she worked with her brother (the house's co-owner) to turn it into a rental income space on Airbnb along with a sometimes-studio space for Sophie, as well as a place to entertain friends. And while it may not be someone's permanent, year-round home, it's too cute, quirky, and fun not to include as a tour during Apartment Therapy's celebration of color this July.
There are tons of things Sophie loves about the house: "The home's high ceilings, layout, antique wood beams, and original clawfoot tub were just some of the details that really drew me in. As soon as I walked in, I got goosebumps and my interior design ideas started flowing. Since I've decorated and put my own interior spin on the home, I love its inviting pink door, the yellow dutch door in the back that connects the back deck to the kitchen, the portrait wall, and the retro pink fridge! All of these colorful elements come together so beautifully to create an imaginative and fun setting."
Apartment Therapy Survey:
My Style: With one look at my Instagram, you can tell that I LOVE color. I'm all about sunny aesthetics and wanted to create a space that was inviting, memorable, happy, and picture-perfect. So, it's no surprise that my home is inspired by all things colorful, pretty, and fun! I've recently been drawn to mid-century pieces so my style has skewed to be colorful with touches of vintage flair.
Inspiration: Everywhere! I love pulling inspiration for everything around me—my friends (both online and offline), my city, my travel adventures, people I see online, and so much more. The Victorian era and the '60s are big inspirations for me—but I also look to traditional magazines to learn how others use colors and transform spaces.
One fun inspiration memory that I incorporated into the house: I remember walking into a Ralph Lauren as a child and seeing grand portraits in staircases that gave me ALL the feels. And then last year, I came across Gray Benko on Pinterest and fell in LOVE with her portrait wall. I re-created something similar, all thanks to her fabulous design—so I'm all about finding inspiration from others and making it fit into your own home.
Favorite Element: Ohhh, there are so many but my favorite element has got to be the front door. Your first impression is always the most important one—and I really feel like the door stands for the best first impression of the home. It's charming with Victorian accents so you know the home is welcoming with historic elements. It's a bright shade of pink so you know the home is going to be colorful and bold. It's paired next to a cactus and a flamingo so you know the home is quirky and fun.
Biggest Challenge: To not have things looking too cluttered. It's really easy to put a bunch of stuff together, but can you make it look cohesive and welcoming and comfortable? That's always hard to do. To overcome it, my advice is to be flexible and know that you can move things around if it doesn't feel right. It's obviously an investment to furnish a place but being flexible in where pieces live is key. Maybe a chair you wanted for the bedroom is better suited in the dining room, for example.
Proudest DIY: The dutch door in the back. I really wanted one but they were SO expensive to buy (like $2000) so I met with a local wood worker and together, we made the kitchen door into a dutch door with a folding top!
Biggest Indulgence: The light fixtures. I really feel like they set the stage for the home and I wanted to have light fixtures that just made you say "WOW!" They all have unique design pieces and the brass colors flow throughout the house to tie together the contemporary feel of the fixtures in each room.
Best Advice: Learn what makes your home YOU. This is the place you spend most of your time so you want it to be comfortable, inspiring, and unapologetically you.  For me, it was creating a happy home–a safe haven for me to express who I am, which is generally through color. My advice is to identify your home style and toast to your unique, good taste!
On that note, be sure to surround your home with all the things that make you happy. Don't let sticking within a certain design style confine the pieces you pick for your home; just choose what you love and what makes you happy. I feel most at home when I look around and see my personal and curated selection of treasures.
Interior white ⁠— Behr, Polar Bear
Pink door ⁠— Behr, Angel Kiss
Dutch door ⁠— Behr Buzz-In
Bedding — White Room Interiors NYC
Bird Chandelier — Etsy from brand called Kekoni (don't see them live on the site anymore)