Yes, Coloring Can Positively Affect Your Health
We independently select these products—if you buy from one of our links, we may earn a commission. All prices were accurate at the time of publishing.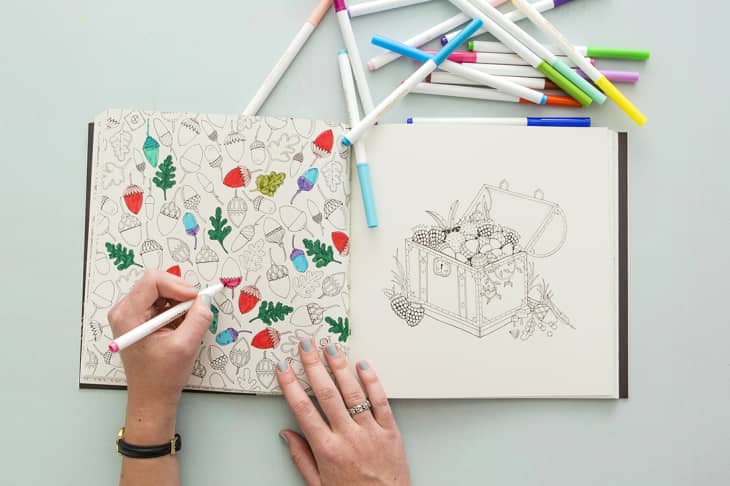 Coloring isn't just for kids anymore. In recent years, adult coloring books have boomed in popularity, making for a relaxing and nostalgic hobby. If you've decided to take up coloring again, you'll be happy to know that science is on your side. As Mayo Clinic recently reported, there are actual health benefits to coloring well into adulthood.
Follow Topics for more like this
Follow for more stories like this
As Mayo Clinic psychiatrist Sheila Jowsey points out, coloring can help you practice mindfulness. Whether you're picking out a color scheme or concentrating on staying within the lines, being able to focus on the present moment and disconnect from larger life concerns can go a long way in alleviating stress.
Even if you only take a brief coloring break, this mindfulness can make a significant impact. Research shows that stress can cause serious health problems, whether they be physical maladies like body aches, fatigue, and sleep problems, or mental health issues, such as anxiety and depression.
This report wasn't the first of its kind, however. Craig Sawchuk, a clinical psychologist at Mayo Clinic, told the Washington Post that coloring "can help slow down heart rate and respiration, loosen muscles, and stimulate the brain."
Likewise, therapist and licensed social worker Emily Hamilton previously told Apartment Therapy that coloring can also help us process our emotions by calming the central nervous system. As she noted, the hobby "focuses your energy enough on a certain simple task without it becoming escapism."
"Often, activities that people usually go to when they are stressed such as watching a TV show or movie can serve as an escape from their own thoughts and feelings," Hamilton added, and although those activities "can be helpful at times, if you are wanting to be able to self-soothe and not just escape, doing an activity that calms the nervous system while allowing for you to sort through and tolerate your thoughts and feelings can be much more helpful, productive, and effective."