What Is the Difference Between a Condo and an Apartment?
We independently select these products—if you buy from one of our links, we may earn a commission. All prices were accurate at the time of publishing.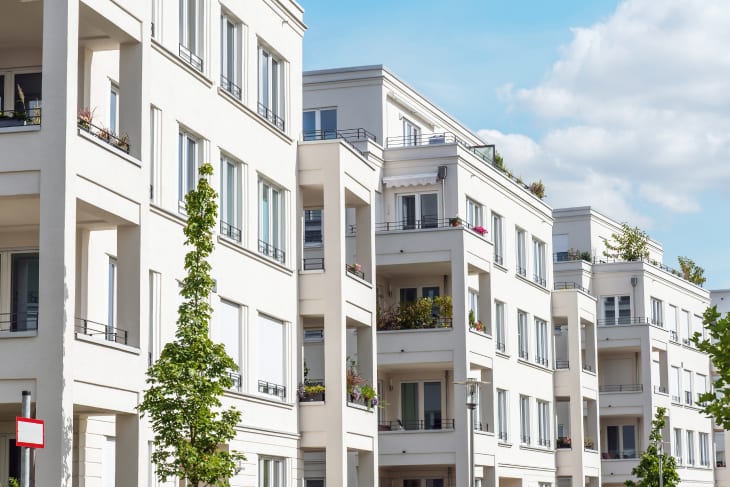 So, you're trying to find a new place to live. As your search goes on, you notice that "apartments" and "condos" are popping up almost interchangeably. You try to keep your focus, but wonder, "What am I looking for exactly?" Then you realize you don't actually know the difference between the two. Don't worry, you're not alone. 
How about the location? Nope.  
Is it about ownership? Pretty much.
To clarify, real estate agent Gill Chowdhury of Warburg Realty in New York City provides a basic definition for each: An apartment is "a space within a building that you can rent but can't purchase," and a condo is "a space within a building that you can purchase and own outright." Keep in mind, however, that in a condo ownership building, "There are many individual unit owners so you can also rent a condo from the owner as well," he says.
Are condos and apartments the same thing?
To summarize: Condos and apartments have one key difference. While you can only rent an apartment, you can either rent or own a condo. Of course, there are additional components that are helpful to know for both dwellings. Like, if you're renting, who does your rent check go to and who is your landlord? What is an HOA?
In any case, when you rent an apartment or a condo, that means someone else actually owns it. Knowing who that is helps define your unit. "A single entity can own an apartment but they are more likely to be owned by institutional investors," says Chowdhury. On the other hand, he says, "Condos are more likely to be owned by smaller investors or individuals."
That brings us to landlords. In an apartment building, since one person (or one institution) owns all the apartments in that building, "All the tenants have the same landlord," Chowdhury says. In a condo building, which typically has different owners for each unit, "Tenants have different landlords," he says, so you and your neighbor are probably sending your rent checks to different people. (Unless, of course, your neighbor owns and lives in their condo.)
Another component is maintenance. Who manages the property and pays to repair things? In an apartment, the building owner manages and maintains the property. For example, if a board on the front steps breaks, the owner will fix it or pay to get it fixed. Condos are managed and maintained by a homeowner's association, or HOA. Financial site Bankrate offers a helpful definition. Per the site, an HOA is "a self-governing organization in common-interest communities where homeowners collectively pay fees to maintain the buildings or surrounding community." So, condo owners come together to form an HOA, then elect a board of directors to manage the HOA. Each owner in the building pays HOA fees, which go to maintaining the building and repairs. If you're renting a condo, your rent check goes to the condo owner, who pays the HOA fees.
Is it better to get a condo or an apartment?
Since the main difference between condos and apartments is about ownership, it's usually easy to know whether an apartment or condo is right for you. Are you planning on staying somewhere long-term? Do you have money saved for a down payment on a mortgage (and money for taxes and insurance)? Are you ready to commit to maintaining the property (and paying HOA fees)? 
If your answers to those questions are no, then you should probably rent. (Condos typically have a higher price and a higher quality than apartments.) But if your answers are yes, think about buying a condo. 
And if you've followed along this far, you'll see the loophole is that you actually can live in an apartment that you own yourself after all… if you buy the entire apartment building and then manage all the other units.