I Tried This Internet-Famous Travel Tumbler and, Seriously, I'm Obsessed
We
independently
select these products—if you buy from one of our links, we may earn a commission. All prices were accurate at the time of publishing.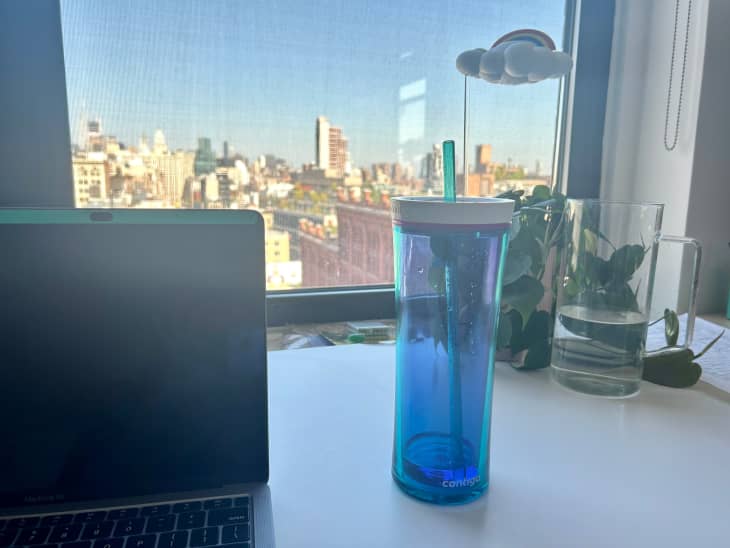 Let me start by saying that I am not historically a water tumbler lover. At home, I prefer to sip out of a giant Mason jar through my metal straw. And while out and about, I apparently prefer to fork over dozens of dollars for coffees, matcha lemonades, and anything but water. While watching the tumbler frenzy play out around me, I have remained peacefully in my bubble of sipping out of a big glass and spending too much money on little drinks. Then, I saw a photo of Beyoncé that changed everything. Posted on her Instagram, the picture shows her strutting backstage on tour with a certain item in hand: The Contigo Shake & Go Autoclose Travel Tumbler. 
When I looked it up and saw that it was just $23 at Target (also on sale on Amazon for just shy of $16), my interest was piqued. When Apartment Therapy's Executive Lifestyle Director, Charli Penn, told me her household swears by Contigo travel mugs and water bottles, I was convinced. Then, the brand kindly sent me a tumbler of my own to try and truly, this tumbler has already made my life better in a handful of key ways. Here's why I am a tumbler convert for the Contigo Shake & Go Autoclose Travel Tumbler. 
It saves me money — really.
While it sounds counterintuitive that spending money on a product that can hold water — a beverage that pours out of my tap for free — could save me money, it's true. Let me explain. When I'm home, I'm typically sipping on a big glass of water, mug of tea, or a homemade espresso. It's when I leave the house that things go off the rails. Especially on hot days or ones where I'm walking around for a long time (which is often), I love to hydrate with a fun drink. 
Seemingly overnight, though, anything from a coffee shop has gone from costing a few dollars to, in my case just the other day, literally $10. With this travel tumbler, though, I can make my fun drink at home, whether that's an iced coffee, some coconut water, or simply some water with a squeeze of lemon, shake it up, insert the straw, and bring it out with me. Sure, I could always have brought a water bottle, but something about having a straw mimics the coffee shop to-go experience that I've come to love. Estimating how much this tumbler is saving me would mean confronting the reality of how much I typically spend at cafes around the city, but if I had to guess, I'd say I've saved $50 in the last couple of weeks of owning it.
It's a great on-the-go cup.
Although the product description claims this tumbler's "autoclose technology provides a leak proof lid when the straw is removed," I have to say I don't have 100 percent confidence in its ability to not let a drop slip through. When filled up with a beverage and turned upside down (without the straw in place), I have noticed a few drips will slowly make their way out of the opening. So, although I wouldn't toss this upside-down into my backpack, I do put it right-side up in my tote bag with confidence. And, thanks to the double wall of plastic, the outside of the bottle is never damp with condensation, no matter how much ice I add to my coffee. 
It's easy to use and clean.
Back in the day, I owned a beloved water bottle with a built-in rubber straw that was so satisfying to use, I drank out of it every day. I shudder to think how long it took me to realize that, despite regularly cleaning the bottle, the inside of the rubber mouthpiece had grown disgusting. Although there were ways to thoroughly disinfect it, I wanted a water bottle I could easily clean and use each day. The Contigo travel tumbler is just that. The lid and body are both dishwasher-safe, so I simply toss them in the top rack with my other glasses, and then I use a straw cleaning brush to wash the plastic straw along with my other reusable straws. Then, I'm good to go for another day of toting around my cute purple tumbler, feeling like Beyonce. 

Buy: Contigo Shake & Go Tumbler, $15.91 (normally $17.99)