7 Non-Competitive Games to Play with Family Members Who Just Can't Accept Defeat
We independently select these products—if you buy from one of our links, we may earn a commission. All prices were accurate at the time of publishing.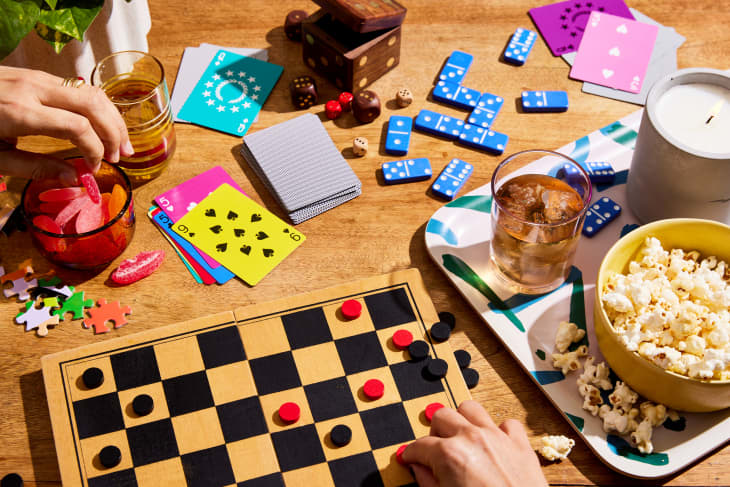 I never realized how strong my aversion to competitive board games was until my recent wedding, in which multiple speeches referenced my gaming hostility. Predictably, marrying into a certifiable Board Game Family has been a challenge — just a step above what I imagine is the trial of a "group 5k on Thanksgiving morning" family. In an effort to prove my love and loyalty to my in-laws, I've been trying to diagnose my game night issues… and I've come up with a couple theories.
First: Why ruin a fun night socializing with competition? If I'm with family or friends, I want to catch up, get the hot goss, and organically move through the night. Hitting pause on conversation to introduce… structure? Point systems? Rivalry? Why!? Second: competition. Do we need more? Holiday get-togethers already include so much that it seems absurd and unnecessary to add "Grandma destroyed in Jenga" to the mix. 
Notably, while I despise board games, I go bonkers for escape rooms. I love the journey to the final destination (escape!) and the collaboration that's required along the way. This fact led me to question: Is it that I hate games, or hate competition? And could this upcoming holiday season with my lovely board game-dependent in-laws be optimized with non-competitive games?
As it turns out, there's a wealth of non-competitive, aka cooperative, games out there for every occasion, from family get-togethers to road trips to dinner parties to unexpected airport layovers. If you, like me, can't make peace with your disdain for competition, here are seven cooperative games to enjoy with your holiday crowd this season. 
This fast-paced word association game was always a huge hit back in my improv comedy days (shudders). Basically, players work together to combine individually selected words to identify a common word. For instance, if one player says "ball" and another says "shoe," a common word could be anything from "cleats" to "Cinderella." It's easy and free to play, and offers participants a glimpse into one another's thought processes.
Heads up: This game involves singing. If that's music to your ears, the new Kulture Karaoke game is for you! There are two ways to play: Karaoke Night and Karaoke Battle. Listen, I'm not battling anyone at karaoke — especially my father-in-law, who is in a kickass cover band. But I'll play Karaoke Night mode, in which players pull a card and follow the song-related prompts. Kulture Karaoke is especially fun for a crowd because it combines music with personality. You'll learn all about your group's musical tastes and hot takes. For instance, when I select the card that reads "Club Banger: Perform a 'turn up' song," my family is going to learn that for me, turning up means I'm shrieking Céline Dion's "It's All Coming Back to Me Now."
Fans of games with actual card decks and game pieces will feel right at home on The Crew: The Quest for Planet Nine. In this cooperative game, players individually complete a series of tasks to move forward together to navigate their space adventure and accomplish their mission(s). There are tons of missions to choose from, and players can pack up the game and pick up where they left off — perfect for long holiday weekends. If your crowd loves individual tricks and challenges and tons of communication, try this game out!
"Ladder" (aka "Reel It Out, Reel It In" a.k.a. "Attic to the Basement")
Another relic from my improv days is the game with many names, which I'll call "Ladder." Another word association game, "Ladder" involves players word associating in a circle. The first player will start by saying any word that comes to mind, then pointing to any next player (a random order is essential for this game!). The next player will word associate based off the previous word. You can use a timer to indicate a moment when your group stops the chain of word associations, and then it's time to reverse. Working together, your group must go backwards, remembering the words you pieced together through association. Once you get back to the beginning, you can even go all the way back up the ladder, surpassing the last word you said before the buzzer — hence the "Reel It Out, Reel It In" and "Attic to the Basement" name alternatives. Speaking from my own experience: This game is fun and gets intense. 
Playing competitive board games with kids can be really fun! Or, it can be daunting or tantrum-inducing. If you've got a house full of kids this holiday season, the cooperative kids' game Race to the Treasure is a solid — and safer — bet. Players work together against the game, using dice rolls to create a path to the treasure. The object is to beat the ogre to the treasure as a team. In our home, we have common enemies!
As the name probably suggests, use some discretion when (and where!) playing this adults-only take on a drinking game (it's a marijuana game, y'all). My husband and I just got this deck for our Friday nights in, to play while we enjoy our weekly takeout and ignore whatever new Netflix series we're streaming. After you spark up, the game will spark conversations, questions, curiosities, and debates. Hoping my parents will be into this game during our upcoming holidaze! What do you say, Stewart? Cath? Hello?
Table Topics are always "on the table" for me, so to speak. Any opportunity to learn more about my friends and family in a structured way, without having to come up with conversation-starters myself, is a win! The OG Table Topics company has a variety of packages to choose from, for teens, families with kids, couples, grandparents, girls' nights, you name it! Play for as little or long as you like, and enjoy learning silly, serious, and sincere things about one another.