Twitter Has Thoughts About This Unconventional Kitchen Sink
We independently select these products—if you buy from one of our links, we may earn a commission. All prices were accurate at the time of publishing.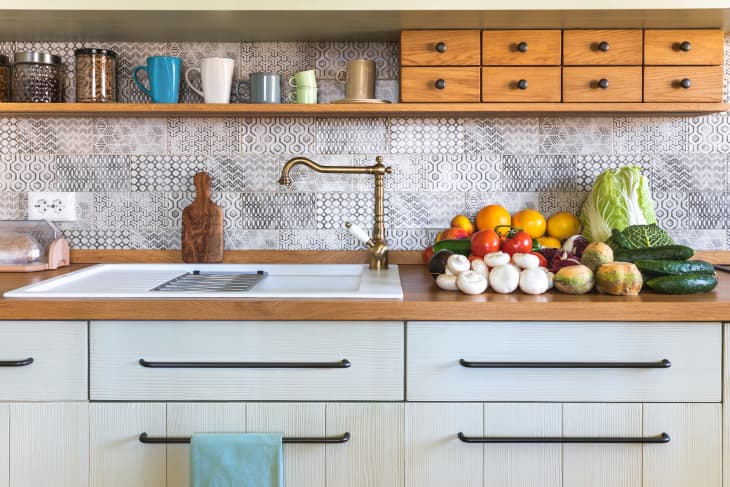 While kitchen sinks can vary in size, material, and features, most are usually the same shape. So it's understandable that Twitter users reacted strongly to a strangely configured sink in one man's kitchen.
Follow Topics for more like this
Follow for more stories like this
Prior to replacing his kitchen sink and countertops, Brian Manzullo posted a photo to his Twitter account and the unique two-basin sink received a controversial response, with some users even drawing comparisons to a kitchen out of a Sims video game.
"Some personal news: We're replacing our countertops tomorrow and I'm so excited, mainly because we get to remove this abomination of a kitchen sink," he captioned the photo.
An abomination might've been a drastic exaggeration of the sink's peculiar appearance, but it didn't exactly receive a lot of love from Twitter users. "I can't think of any good reason for why something like this exists," someone commented. Meanwhile, others thought that it "belonged in a subreddit thread somewhere." After a handful of comments hinted that the sink's unusual shape is designated for cooking kosher products, Manzullo said that's a possibility. 
"All we know is the previous owners used this house as a vacation rental," he responded. "But even most kosher-compliant sinks aren't designed like this; meanwhile corner sinks are. You can Google both if you don't believe me."
Once the sink was replaced the next day, Manzullo shared an update to his original tweet with a photo of the new kitchen sink and accompanying countertop. 
"Obviously we'll need a backsplash — and the countertop needs fixing because it was cut a little too wide for the sink (hence the blue tape) — but the sink itself is functional," he said in an update. "All is right with the world."
All isn't completely right with Manzullo's sink, though, as the countertop was cut a bit too wide, but at least the new color of the countertop and stainless steel faucet brighten up the kitchen.