Cory and Kristine's Marriage of Classic and Graphic
We independently select these products—if you buy from one of our links, we may earn a commission. All prices were accurate at the time of publishing.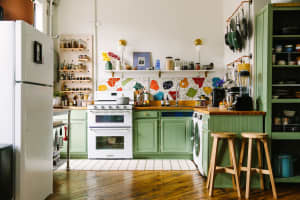 Can't-Miss House Tours Straight to Your Inbox
Keep up with our latest house tours each weekday with our House Tour of the Day newsletter
Name: Cory and Kristine Hankins
Location: Bucktown — Chicago, Illinois
Size: 1 bedroom, 1 bathroom + den
Years lived in: 9 months — rented
In a short amount of time, newlyweds Cory and Kristine Hankins have managed to turn their one-bedroom rental into a calm, inviting space. Kristine tends to favor a classic look, where Cory's style is more modern, but the two have come together to form a cozy, surprising mixture.
Cory and Kristine are warm, thoughtful and ambitious, all of which are reflected in their home. They seem ever-ready to tackle new challenges, whether that comes in the form of repainting, reupholstering, or re-carpeting. Cory, a graphic designer, has created most of the art in their home, lending the walls perfectly punctuated bursts of color. And despite the fact that they only have two small closets in the whole apartment, the space feels tidy and open. What's more, the highly organized couple has managed to make their home a marvel of multifunctionality. Kristine recently started her own business, Kristine Aletha Weddings, and she works from home, which means constantly streamlining so that that she has adequate space for both her personal and work life.
For the most part, the apartment is decorated in cooler tones, and the walls are painted a soothing, uniform shade of gray, allowing the rooms to flow organically into one another. Traditional furniture, rustic touches, and a mix of textures and materials temper the more modern, graphic aspects of their decor, making for an engaging yet peaceful space. Things get a little bit sassy in the kitchen with an orange-striped accent wall that you may recognize from the 2011 Room for Color Competition. Cory and Kristine chose this color scheme as an homage to their orange tabby, Rafa, and it certainly makes the kitchen a vibrant place to be.
What with being recently married, starting a new business, creating a new design blog, and planning several trips, journeys (of both the real and metaphorical sort) seem to be very important to Cory and Kristine. But amidst the host of exciting changes happening in their lives right now, they have succeeded in making a comfortable, relaxing space to come back to at the end of the day.
Apartment Therapy Survey:
Inspiration: We're both really drawn to prints with type, image, and graphic patterns and have filled our walls with hand-cut typographic posters, silhouettes, oil paintings, silkscreen prints, and photography (it helps that Cory is a graphic designer and can make most of the things himself!). We gain a lot of our inspiration from home design blogs (like Apartment Therapy!), Dwell, and, of course, Pinterest!
I suppose we're both a bit sentimental when it comes to our home as well. We love displaying photos and items that mean something to us like a photo of Kristine's great-grandparents on their wedding day in 1929 which hangs above an eerily similar shot of the two of us from our engagement session. I think it's safe to say that most of everything in our home has a story. In addition, we're always inspired by the incredible places we've traveled so many of our photos and prints have a travel theme to them as well.
Favorite Element: We went out on a limb by painting big, orange stripes in our kitchen, and were quite pleased with the result! Since the rest of our apartment is fairly muted with grays and blues, we wanted something bold and out-of-the-box for the kitchen. The space is probably in need of the most updating (like those cabinets!) but the punch of orange really makes a huge difference. We actually enjoy spending time in our kitchen now and hardly notice the less than desirable parts.
Biggest Challenge: Let's see. Probably painting the entire apartment gray and getting all the walls to match (since gray is such a tricky color). Also, finding unique ways to organize and store things with only one closet!
What Friends Say: Our friends seem to really love the space and instantly connect it to us and our sense of style. Kristine is more classic, Cory more modern, but the two tastes fused together create a really unique space.
Biggest Embarrassment: The kitchen cabinets are still pretty dreadful!
Proudest DIY: When we moved into the apartment, the bedroom had 20-year old teal green carpet with countless stains in it. Cory's family had some extra beige carpet lying around so he decided to rip up the old stuff and lay new carpet (which he had never done before). The transformation was pretty incredible. The room became lighter, softer, and larger.
Biggest Indulgence: Our living room furniture! We did a good amount of research before purchasing anything. We wanted to choose pieces that would both last a long time and be versatile. Ultimately, we chose all different pieces of furniture but we really like how they match but also give an eclectic feel to the room.
Best Advice: Your home should be a testament to who you are and what you value. When people come over, they should feel as though they're walking into your home. More than that, when you walk into your home, you should feel welcomed and greeted by it. Also, I think it's important to take designing and decorating slowly. Let things come together on their own. Choose a theme–something that inspires you–and build your home around it. And keep building! We like to think that our apartment is a work in progress. That not only takes off the pressure of trying to have it all together but it also makes it fun. And, I think we would both advise to live simply and avoid clutter. Especially living in a small space!
Dream Sources: Apartment Therapy, Dwell, Real Simple, West Elm
• Leather Chair: World Market
• Armless Chair: World Market
• Ektorp Sofa: IKEA
• Lamps: IKEA & Target
• Armoire: Family hand-me-down
• Nesting Tables: Walmart
• Wicker Chest: Target
• Coat Hanger: IKEA
• Area Rug: IKEA
• Mirror: JCPenney
• Book Shelf: IKEA
• Desk: Garage Sale (to be painted in the future!)
• Chair: IKEA
• Curtains: Target
• Short Chair: Bought from Goodwill, then recovered
• Lamps: Target
• Desk Lamp: IKEA
• Filing Cabinet: Walmart
• Bar Cart: Craigslist
• Bar Tray: West Elm
• Rug: Crate and Barrel
• Dining Table and Chairs: IKEA
• Lamp: IKEA
• Bed: IKEA
• Side Table: Family hand-me-down
• Curtains: Target
• Dresser: IKEA
• Chair: Bought from a sidewalk sale, then painted and recovered
Thanks, Cory and Kristine!
• HOUSE TOUR ARCHIVE Check out past house tours here
• Interested in sharing your home with Apartment Therapy? Contact the editors through our House Tour Submission Form.
• Are you a designer/architect/decorator interested in sharing a residential project with Apartment Therapy readers? Contact the editors through our Professional Submission Form.