Cost-of-Living Smackdown: Los Angeles vs. Phoenix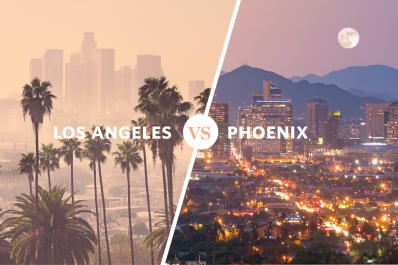 (Image credit: J Dennis/Shutterstock; f11photo/Shutterstock)
Before you hop onto the roof of your car on the 405 and bust out some dance moves, we have some devastating news: Life in Los Angeles isn't like a scene out of La-La Land. But that certainly doesn't mean that the City of Angels is without merits. With almost four million residents, Los Angeles is a diverse metropolis that attracts people from every corner of the world in search of success, be it professional or personal. But if you're willing to look about five hours east, there's another hotspot that could be calling your name: Phoenix is now the fifth-largest city in the US, with over 1.6 million residents. The Arizona capital may not have the bright lights of Hollywood, but it's no slacker: There are many booming industries in the Phoenix area, ranging from manufacturing and tourism to aerospace and renewable energy. Here's a breakdown of life in Los Angeles and Phoenix...
Everyday Living
Los Angeles is a sprawling mecca. And with that much territory to cover, there's an opportunity to find a budget-friendly place to live — if you're willing to spend some time in your car.
Sarah Dandashy, Lead Concierge at the London West Hollywood at Beverly Hills and host of the online travel show "Ask A Concierge," says that the sheer space of Los Angeles affects life both positively and negatively. "Because there is more space than other urban destinations, people can live further away at more reasonable prices. One can find food, restaurants, spas, and other services at all price points—they just might have to drive a little way to find it," says Dandashy.
Prices in Los Angeles certainly come in on the high side, in comparison to the rest of the country. According to GasBuddy.com, the currently average price for a gallon of gas in Los Angeles is $2.93. The same tank of gas would cost $2.22 in Phoenix, almost $.70 cents less per gallon. That means filling up your 15-gallon tank would cost almost $10 more in L.A. Both cities are known for being car reliant, so it's safe to say that no matter where you live, you'll be spending significant time at the pump. Still, Los Angelenos proudly defend the cost of their hometown, particularly in comparison to other major metropolitan cities.
"In general, Los Angeles has a high cost of living," says Dandashy. "But it is not as high as say New York or San Francisco."
Jobs and Salaries
Unemployment is low in both Los Angeles and Phoenix, coming in at 4% and 4.3%, respectively, the Bureau of Labor Statistics determined in May.
"There are always lots of jobs in Los Angeles, but it is a city of many industries, of industries that support other industries," says Dandashy. "For example, there are lots of people living out their dream of pursuing a career in entertainment. But as those jobs are infrequent and often times inconsistent, there are many individuals who then also participate in service/hospitality industry jobs."
And while Los Angeles has always been associated with the entertainment realm, the city is having a tech renaissance. "There has been a big upswing in tech industry jobs. This will be interesting to see play out as it will certainly continue to raise the cost of living," says Dandashy.
While Phoenix isn't a big player when it comes to entertainment, it's a major player when it comes to tourism. The golf industry (yes, that's a thing) contributed $3.9 billion in sales to the state's economy in 2014, according to a study conducted by the University of Arizona. The same study determined that golf tourism, which includes both golf travelers and golf spectators, attracted an estimated $598 million in spending from out-of-state visitors in 2014, for a total estimated impact of $1.1 billion in sales and 10,500 jobs. But there's many more thriving industries in Arizona: aerospace, renewable energy, bioscience, and manufacturing are all booming.
Real Estate
A solid mix of suburban and urban living, Los Angeles has a neighborhood for everyone's liking… as long as they're willing to to calculate time and distance into their journey. But then, of course, there's the biggest factor: Money. The real estate data company CoreLogic determined that in May 2017, the midpoint sales price for homes in Los Angeles County was $560,500. Even with a high price point, people are lining up to drop major dough on a home. Despite the sky-high prices, 7585 homes sold in LA County in May 2017, an increase of 4.8 percent over the previous year.
"The housing market is surging and at high prices," says Dandashy. "As the housing market is on a continual upswing, purchasing is only possible by those in an upper class income bracket. Renting is still very common, and many inhabitants in their 30s and 40s still require roommates to afford rent." Clearly, that shows why the Los Angeles the metro area has the very lowest rate of homeownership among adults under the age of 35 in the nation, according to a new study from rental website Abodo.
If you're looking to buy, Phoenix has price tags that'll put a smile on your face. The median price of homes currently listed for sale in Phoenix is $268,519, according to Zillow. Meanwhile, median single-family sale prices in Phoenix have risen 21.6% from 2008 to 2016, according to National Association of Realtors data. Point being: If you can buy now, get on it!
Culture
From the deserts to the mountains, Arizona is a physically stunning state. And the diverse cultural institutes throughout the city of Phoenix certainly illustrate that. An architectural wonderland, Phoenix was the home base of famed architect Frank Lloyd Wright, who created legendary structures like the David Wright House, and Taliesin West in Scottsdale. A thriving arts and music scene also makes this desert oasis a highly coveted tourist destination. And with just a few hours distance from the Mexican border, there are a whole lot of delicious, authentic food options that go far beyond the Stevie Nicks Fajita Roundup.
Of course, Los Angeles is known for its style, and the art scene is on the up and up. "There is a growing art scene," says Dandashy. "From street art to pop-up galleries to new museums, there is always something new on the scene. The hottest museum in town currently is the Museum of Ice Cream. Tickets sell out within minutes for the following month. But in true LA fashion, it's about more than just the exhibits—it's interactive, visually pleasing, and they encourage photos."
Of course, with folks on every corner hoping to strike it big, the stars of tomorrow flock to Los Angeles. And while they don't all get there, it certainly makes for an entertaining melting pot.
"Keep in mind, Los Angeles has its roots firmly planted in the entertainment world," says Dandashy. "So the next big star, be it actor, writer, musician, comedian, they are all here cutting their teeth."
Livability
Chances are, you've heard the phrase "Nobody walks in LA." And pretty much any Los Angeleno will tell you that's true. "Los Angeles is spread out, so car culture is huge here. Everyone needs a car to get around so people pride themselves on what they drive," says Dandashy.
But because all those cars are on the road, traffic has become one of the most detested attributes of life in Los Angeles.
"Traffic can be rough," Dandashy adds. "But if one can plan to not be on the road during peak times, it can be avoided. An ideal situation for a LA local is to live close to where they work—which isn't always possible, but it's certainly a goal." The takeaway: you're going to be sitting in traffic once in a while, and neither Ryan Gosling nor Emma Stone will pop up on that freeway.
While it may not be as attractive as cruising in a Benz, Los Angeles does have public transportation that many people besides beloved Clueless slacker Travis Birkenstock rely on. Metro runs the majority of public transport in Los Angeles, with lots of subway, light-rail, and bus routes to choose from. A "regular price" Metro fare is $1.75 per ride.
"Public transportation, although the city is trying to make it better, still isn't convenient to most," says Dandashy. "So not as many people use it as they do in other cities."
Like Los Angeles, Phoenix is a car-reliant city. Still, there are public transport options for those looking to take advantage. 20 miles of light rail stretch throughout the area, as well as a major bus system. The Valley Metro, known officially as the Valley Metro Regional Public Transportation Authority, charges $2 per ride on the local bus and light rail system, or $3.25 for the Express Bus/RAPID Bus. You can snag a monthly pass for the Express Bus/RAPID Bus for $104. But with a rising population, the city of Phoenix is working to prepare the area for more residents: The city's current 26-mile light rail line system is set to extend by about 20 miles by 2026.
Have you lived in Los Angeles or Phoenix? Or both? You're the experts! Let us know what you love about them, hate about them and which one you'd rather live in.
Apartment Therapy supports our readers with carefully chosen product recommendations to improve life at home. You support us through our independently chosen links, many of which earn us a commission.