Cost-of-Living Smackdown: New York City vs. Philadelphia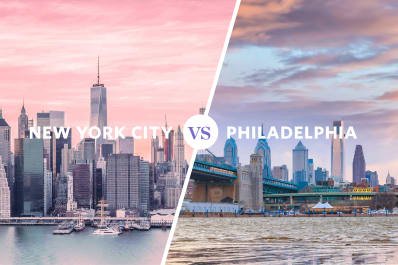 (Image credit: Allen.G/Shutterstock; f11photo/Shutterstock)
Are you a New Yorker who has found yourself chatting with someone from a smaller city, only to discover that their rent is about what you spent on Seamless last month? Okay, an exaggeration (we hope) but it's safe to say that the contrast between living expenses in New York and those in smaller "secondary" cities can be significant. Recently, Mercer's Cost of Living survey determined that New York continues to be the most costly US city to live in. So if you're considering a move from the island of over 8.2 million New Yorkers to the City of Brotherly Love, you're in luck: We took a hard look at how New York City compared to Philadelphia where cost of living is concerned.
Everyday Living
A great way to demonstrate the vast differences in New York and Philadelphia's costs of living is the ol' Starbucks barometer: A Starbucks Grande Latte will set you back $3.73 in Philadelphia, or $4.30 in New York City. Consider this: If you're a New Yorker who buys one every single work day (because a dose of caffeine certainly makes the work day more tolerable) that's a total of $107.50 a month. And that doesn't even count those extra shots of espresso and pumps of sugar-free vanilla. Grocery prices are similarly inflated in New York City — but in an interesting twist, NerdWallet found that a loaf of bread in New York City retails for about $3.35, while one costs $3.99 in Philadelphia. Basically, no matter where you live, you may consider pulling a Jean Valjean.
Jobs and Salaries
The average salary per person in New York City is $31,417, versus $21.671 in Philadelphia. But keep in mind, stats like those include everyone, even the elderly. Point being: don't expect those salaries from the average financier trotting down Wall Street. Based on a review of 634 salaries in New York, payscale.com found that the median salary of a financial analyst is is $65,643.
You know how your entire adult life you've been told not to spend more than 30% of your salary? Well… that's not always that realistic in New York City. Say you make a round $70,000 — a good chunk of change by any standards — 30% of that is $21,000, which, if broken up into 12 months, is $1750 a month. Doable in the city, sure, but you'll likely have to break your budget a bit if you want to avoid roommates. Payscale.com also surveyed 127 financial analysts from Philadelphia, and found that their median salary is $59,130, compared to the $65k in NYC. When you consider how much more reasonable rent is in Philly vs. New York, that $6000 difference means a lot. Plus, Philly has the proximity to all those Wawa's (and if you've never been to a Wawa, you're missing out—just trust us on this one).
Real Estate
It's no surprise that the price of real estate in New York blows Philadelphia out of the water. According to NerdWallet, the median rent for a two-bedroom apartment in Philadelphia is $1,391 per month, compared to $4,088 in NYC.
Anny Deese lives in Philadelphia with her husband and baby, and travels frequently to New York for work. She says the low cost of living in Philly is one of the city's best attributes. "You get more for your money— we paid $1600 for a 2-bedroom apartment in the Fairmont neighborhood," says Anny. "The cost of living is a little cheaper."
Nicole F., who lives in the Prospect Heights neighborhood of Brooklyn and works in fundraising, says that while the prices are certainly brutal, she manages to get by if she skimps in other areas. "I bring a turkey sandwich for lunch every day. I drink the crappy Keurig coffee in the kitchen," says Nicole. "But I spend $1875 on a small one-bedroom ground level apartment (including all utilities) that is actually considered a very good deal in my area."
With rental prices so high, it's no wonder that few people can afford to buy their home in New York. According to NerdWallet, only 32.6% of New York City residents are homeowners.
Culture
As far as attractions go, New York and Philly aren't all that different. You probably already know that Philadelphia has a rich historical culture, given that it was home to many important moments in American history. There are so many museums and historical spots to visit—the National Constitution Center, the Benjamin Franklin Museum, the Liberty Bell, and more. In New York, you can visit the Metropolitan Museum of Art, the American Museum of Natural History, and more. Basically, there's no shortage of things to do on a rainy day in either city. Both cities are known for having no shortage of great food as well as for their cool music scenes—especially in Philly, where there's strong support from radio stations and local businesses for artists and musicians in the city.
Apartment Therapy's Assistant Lifestyle Editor Brittney Morgan lives in NYC but spends lots of time in Philadelphia visiting with friends. "The main difference between Philly and NYC isn't really in the culture and activities itself—it has all the same things to do as NYC and other big cities like museums, shows, concerts, festivals, cool bars and great food—it's the sense of community and the overall vibe that sets it apart," she said. "Philly is more laid back than NYC—you're more likely to see someone out at a bar on a Saturday night in a sweatshirt than you would be in NYC, for example. New York looks and feels like a big city, but Philly looks like a big city and feels a little more like a tight-knit neighborhood."
Livability
While you'll come across way more drivers in Philly than NYC, some residents do only use public transit. A monthly public transport pass through SEPTA in Philadelphia costs $83, while a NYC MetroCard will set you back $120 a month. But, in comparison to the New York MTA's 24 subway lines, Philly only has two, meaning you're more likely to see Philly residents taking the bus than the subway, if they're taking public transportation at all and not just walking—which is the preferred method of a lot of Philly residents.
"Philly is compact enough that walking is pretty doable," said Erin Browne, a former NYC resident turned Philly transplant. She also mentioned that public transit in New York is much better than it is in Philly, and a few other Philadelphia residents we spoke to mentioned that SEPTA isn't the greatest, but it's tolerable.
Another thing to note: Philly, like NYC, has taxis along with Uber and Lyft, but they're all far less expensive than the services are in New York. An Uber from 30th Street Station to Center City (about a 15 minute driving distance) might cost you around $5, for example, while a similar distance in New York could cost you $7-10.
Have you lived in New York City or Philadelphia? Or both? You're the experts! Let us know what you love about them, hate about them and which one you'd rather live in.