Are Costco's Dancing Skeleton Bride and Groom the New Home Depot Skeleton?
We independently select these products—if you buy from one of our links, we may earn a commission. All prices were accurate at the time of publishing.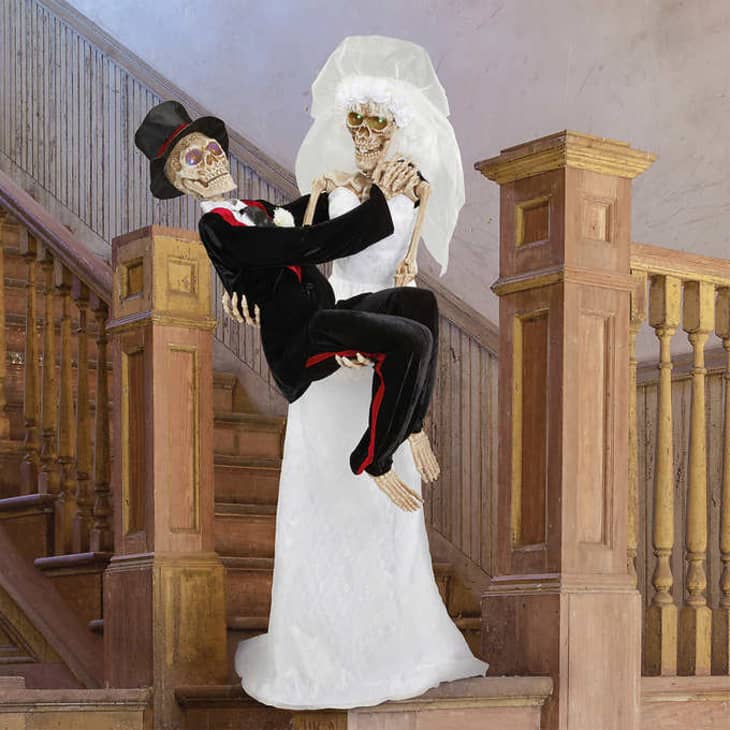 When the calendar hits September 1, fans of spooky season start their preparations. And at Costco stores across the world, a pair of dancing skeletons are already gaining significant attention. 
Follow Topics for more like this
Follow for more stories like this
Over at the Costco Reddit, user TheOldQuarryFoxHunt posted a photo of the "Animated Newly Dead Skeletons," who also appear to be newly wed. The bride skeleton is sporting a white wedding dress as she holds the groom in her arms, while he wears a black velvet tux with red accents and a top hat. 
"I actually see it being best on a covered porch and not in an apartment, unless you are throwing an awesome Halloween party!" TheOldQuarryFoxHunt, who asked that their real name not be used, told Apartment Therapy. "It is life-sized, and plays 3 or 4 different songs."
The bride's eyes even light up and flash green when it is playing. 
"I actually thought kids would be terrified of it, but in my casual observation, the opposite seems to be true," they added. 
Costco fan account CostcoDeals also spotted the pair in a casual embrace, singing to Sonny and Cher's classic hit "I Got You Babe." 
Throughout the interwebs, other people are enjoying sightings of the ghoulish creatures. 
Over in Taiwan, the skeletons are causing a stir as well. One parent posted a photo of the duo, writing "my kids are super scared." So far, the post has 20,000 likes and nearly 700 comments.
Of course, if you're going to go for it, keep in mind this one will cost a pretty penny: "$149.00 plus tax," TheOldQuarryFoxHunt told us. "It's not cheap."
But if you're a Halloween worshipper who waits for October 31 with bated breath, maybe it's worth every cent. Plus, it's now available for purchase online.
"It made me smile, but Halloween is my fave holiday," TheOldQuarryFoxHunt added. 
If you're looking for something with a bit more of an autumnal theme, there's also the Animated Dueling Banjo Skeletons, available for $89.99. 
Chances are, you're probably familiar with the 12-foot Home Depot Skeleton with LCD "LifeEyes" that stole the show last Halloween, going viral all over the internet. That gargantuan creature is back this year, with the addition of the "Inferno Pumpkin Skeleton" that has a pumpkin for a head, a ribcage full of flames, and a "refined hourglass figure."
Hey, it's better than the oversized snowman.