The Buttery-Soft, Oprah-Approved Sheets I Love Are 25% Off for a Limited Time
We independently select these products—if you buy from one of our links, we may earn a commission. All prices were accurate at the time of publishing.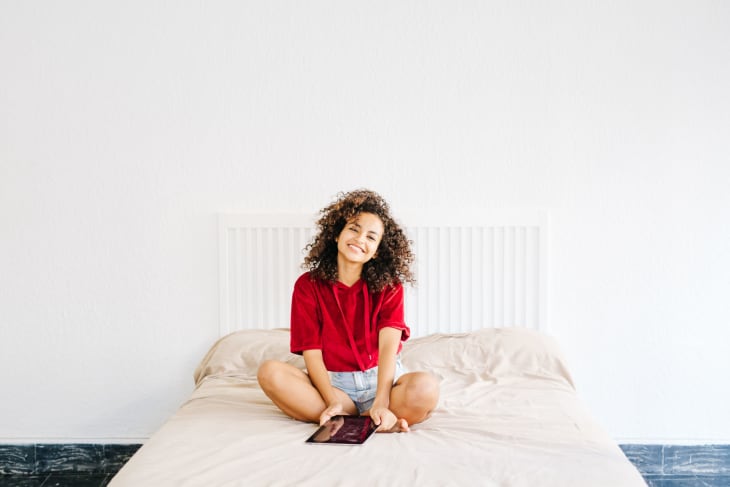 By no means would I describe myself as a bedding snob. I could easily buy a sheet set from a supermarket in a heartbeat without complaint and use them until they need to be replaced. As long as they're clean and comfortable, I'm good. But every now and then, some sheets come along that make me believe I deserve more. I've had the feeling before with washed percale sheets, budget-friendly sateen sheets, and even a set of cool and crisp white sheets I typically wouldn't pick up on my own. I'm not really one to splurge on my bedding, but I've officially met the sheets that I'd empty my linen closet for, no matter the cost. Cozy Earth's Bamboo Sheet Set is an Oprah favorite — in fact, the brand has made her list of favorite things FOUR years in a row — and after trying them out for myself, it's safe to say these sheets have become my favorite, too.
Follow Topics for more like this
Follow for more stories like this
You know something is a BIG deal when you take it out of its packaging and have an immediate reaction. The Cozy Earth Bamboo Sheets come in a stylish tote bag and as soon as my hand touched the fabric, I legitimately froze. Up until that point, I'd been super skeptical about these pricey sheets, as one who grew up in a frugal household can be, but I knew right away that these had a high probability of changing my life. I've slept in sheets made with 100-percent bamboo viscose before, but these felt nothing like them. Cozy Earth's sheets are buttery soft, impressively cooling, and so smooth that they slip through your fingers like silk. I brought the set to my dad's place to wash them and his exact words when he touched the fitted sheet was "WOW!" His surprised expression let me know that my feelings weren't all in my head. 
By the time I got into my bed that was all made up with the luxurious Bamboo Sheets Set, I was pretty much sold. First of all, they fit thick mattresses up to 20″, which meant it was easy as pie to get them on my deep-pocketed and pillow-topped Avocado Green Mattress. Second, they felt even nicer when I was fully under the covers than they had when I was holding them in my hands! The sheets kept me cool, and they're moisture-wicking so I didn't get that sticky feeling of being too hot in bed, even though my room has poor circulation and sometimes gets uncomfortably stuffy. The softness and smoothness stayed consistent every single night, and I was blown away. I thought it was too good to be true, even convincing myself that washing the sheets would diminish them somehow, but no… They only got better! 
Take it from me, a person who's bought supermarket sheets many times; if you go out of your norm to treat yourself to some quality bedding that will last for a while, Cozy Earth's Bamboo Sheet Set is highly recommended. Their thousands of five-star reviews are well-deserved! I love them so much that I want to pick up the Oat and Driftwood colors when they come back in stock, so that when one set is in the wash, I can just replace them with another from my linen closet. I actually miss them when they're gone! It's safe to say that I've fallen head over heels for these sheets. Now is a fantastic time to get a set for yourself, because during the Amazon Prime Early Access Sale, you can snag these sheets for 25 percent off (no code required). Cozy Earth also has a 100-Night Sleep Guarantee, so if you aren't as wild about them as I am, you can return them for free. At the very least, you owe it to yourself to give them a try. I'm glad I did!

Buy: Cozy Earth Bamboo Sheets Set, $276.75 (normally $369)