Crafting a Serene and Relaxing Space in Moscow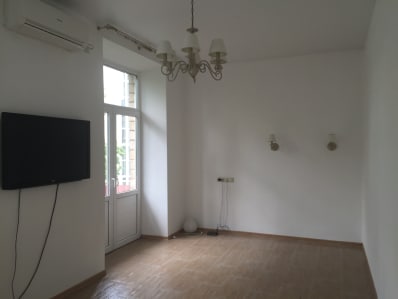 (Image credit: Submitted by Anna )
Project by: Anna
Location: Moscow, Russia
This apartment is located in the center of Moscow - only a five minute walk from the Red Square and Kremlin. It is located in a historic building and its surface is 65 square meters/700 square feet. My clients were a young couple - they travel a lot and wanted me to recreate a mixture of French and Scandinavian looks.
(Image credit: Submitted by Anna )
I used lots of natural materials - the stump table was handmade, the headboard was covered with a linen slip cover, large windows were treated with semi transparent linen curtains that created a very light, relaxing and cozy feel. I didn't want to introduce lots of color, as this apartment has a very serene and relaxing feel and I didn't want to interrupt it.
(Image credit: Submitted by Anna )
Despite its central location, the building is hidden in a very quiet corner, surrounded by lush vegetation. The walls were painted white to give the room additional space and light. The bedroom has very long square shape, so I decided to correct it using the mirrors - we attached several of them in the a sort of abstract mosaic.
(Image credit: Submitted by Anna )
(Image credit: Submitted by Anna )
The living room was decorated with the photographs of the buildings that are located in the same street as this apartment. Lots of vintage books added coziness to the space.
Thanks, Anna!
• Are you interested in sharing a decorating or renovating project with the Apartment Therapy readers? Contact the editors through our Makeover Project Submission Form.