This Is the Credit Score You Really Need to Buy a House
We independently select these products—if you buy from one of our links, we may earn a commission. All prices were accurate at the time of publishing.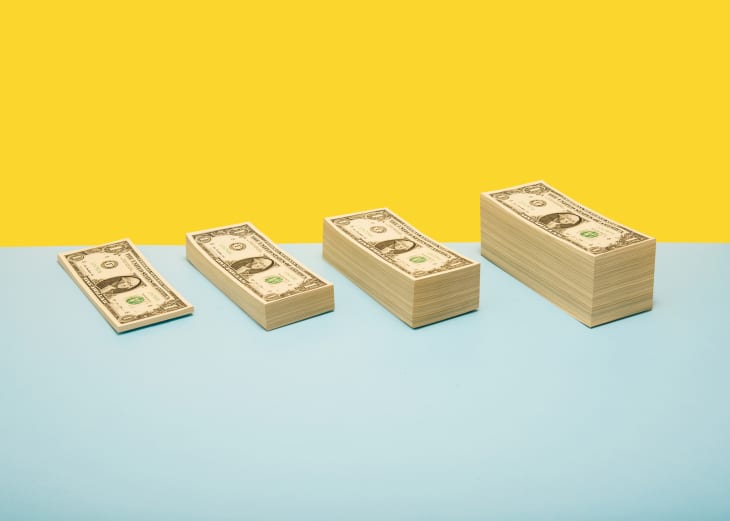 Mortgage lenders take a careful look at your creditworthiness when determining whether or not they'll grant you a mortgage. This might have you wondering: "What credit score do I actually need to buy a home?" 
Follow Topics for more like this
Follow for more stories like this
The correct answer is… it depends on your loan type. 
You need at least a credit score of 500 to get a Federal Housing Administration, or FHA, loan, for example. For most conventional loans, you'll need a score of at least 620. A score of 760 or above, though, will nab you the best interest rates, helping you save money over the life of your loan. 
There's more to be demystified when it comes to credit scores and mortgage applications. First things first: your credit score, along with your debt-to-income ratio, are important criteria for determining your eligibility for a home loan. But it's your credit score specifically that can also help determine the interest rate you qualify for as you shop around for mortgages.
"Your credit score signals how diligent you are with repaying your loans, which indicates to the lender that you will be able to make your monthly mortgage payments," explains Nadia Aziz, general manager of Opendoor Home Loans, which requires buyers to have at least a 620 credit score. "So, for a lender, a higher credit score signals lower risk, which can often result in a lower interest rate." 
Lenders evaluate scores from all three credit bureaus — Equifax, Experian, and TransUnion — when determining your credit, Aziz explains, and they typically use the middle score for their decision making. (FYI: Your score can vary across the three bureaus because lenders and creditors decide which bureaus to report information to).  
Aziz points out that each lender has different credit requirements, and they vary by the type of loan you're looking for. FHA loans allow for credit scores as low as 580 with a 3.5 percent down payment for first-time as well as repeat home buyers, she says. Borrowers can get an FHA loan with a credit score between 500 and 579, but they need to bring a minimum down payment of 10 percent to the closing table. 
For conventional loans (i.e. a loan that's not government-backed), you'll generally need a minimum score of 620, according to mortgage experts. But you'll need a score in the mid-700s if you want to get those record low interest rates you've been hearing about, explains Andy Taylor, general manager of Credit Karma Home.
"Healthy credit is essential in this current lending environment as COVID-19 has made this an especially important factor. Borrowers with scores in the mid- to low-600s will have a more difficult time finding a loan, and if they're able to secure one, it will likely come with higher interest rates that could put borrowers at risk of default," Taylor says. "These stricter lending terms will not be in place forever, but if you're looking to purchase a home now, it's important to be aware."
It's also important to note that lenders aren't looking at scores alone: A current foreclosure or bankruptcy could disqualify you from a mortgage, says Khari Washington, broker and owner of 1st United Realty & Mortgage. 
Tabitha Mazzara, director of operations at mortgage lender MBANC, says the majority of denials happen because of derogatory marks for late payments. Defaults and late payments have a significant impact on your credit scores, too, because payment history makes up 35 percent of score.
Now that you have a better idea of what kind of score you'll need, go ahead and try to boost yours ahead of those mortgage applications. Here are 23 of the best credit-boosting tips experts have shared with Apartment Therapy.