This $12 Amazon Find Solved My No-Bedside-Lamp Problem and Helps Me Fall Asleep at Night
We independently select these products—if you buy from one of our links, we may earn a commission. All prices were accurate at the time of publishing.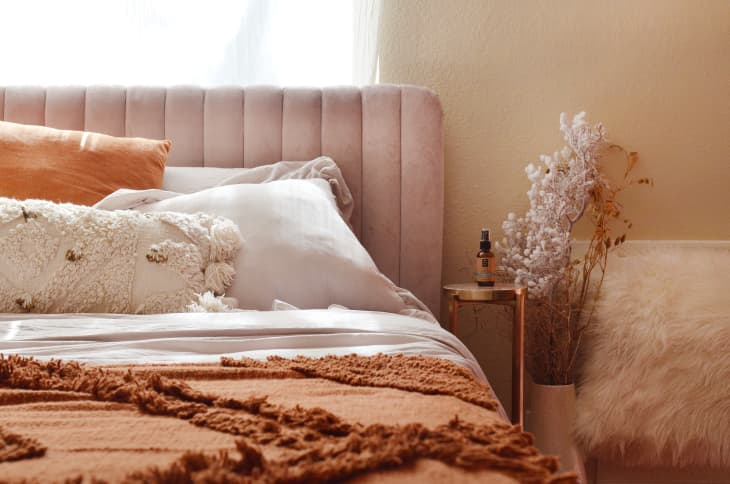 For many apartment dwellers, their dream luxury upgrade is an in-unit washer and dryer. For me, it's a nightstand. In my 10+ years of living in New York City, I have never had enough space to keep a nightstand by my bed. But I would love to have a place to put a lamp and stack the books I read to put me to sleep. My wife and I considered our last move to be a great success because in our new bedroom we can fit one nightstand (hooray!). As you might surmise, it's on her side.
Thankfully, my wife is both a more creative thinker and proactive shopper than I am, so shortly after moving she found the ideal solution for at least some of my bedside woes. This clip-on light attaches to the head of our bed frame and gives me the right amount of light for bedtime reading. It has a slim design and plenty of adjustable features, so while I'm still dreaming of the day when I wake up next to a modest nightstand, this device makes the meantime so much more pleasant.
You can plug the light either into a regular outlet — using the included power adapter — or into a USB outlet if you have those on your walls or in a bedside table. I'm pretty sure it was designed to be USB-friendly because it also works as a ring light to use at your computer for video calls or recordings, but I love it as a night light. Its brightness is adjustable (I like the lowest setting for late-night reading) and it has three temperature options — warm yellow, warm white, and cool white. I find warm yellow to be easiest on my eyes — much better than the blue light from my phone screen — and if I ever wanted to bring this to my desk I would use the cool white setting for maximum visibility during the day.
My favorite detail about this device is its adjustable gooseneck. It lets me set the light head farther away from me and aim it to the side so I can read using indirect light. This kind of light feels more comfortable to my eyes and helps me relax better than light from a more direct source (that's a benefit even the lamp on my future nightstand can't give me). The gooseneck design would also come in handy at your desk, where you want to fine tune how close the light is to your face.
My wife and I use these lights every night — yes, she bought one for herself, too! — and I'll be holding on to mine for a long time. The clamp at the base of the light is sturdy and lets you attach it to surfaces of different thicknesses, so you'll never have to worry about it slipping off. At just $12, this is hands down the best value purchase I've made for my bedroom. While I wish I had found it earlier so I could have had a better nighttime reading setup sooner, I'm glad you can add it to your home today.