Don't Take Free Furniture from the Curb Without Doing This First
We
independently
select these products—if you buy from one of our links, we may earn a commission. All prices were accurate at the time of publishing.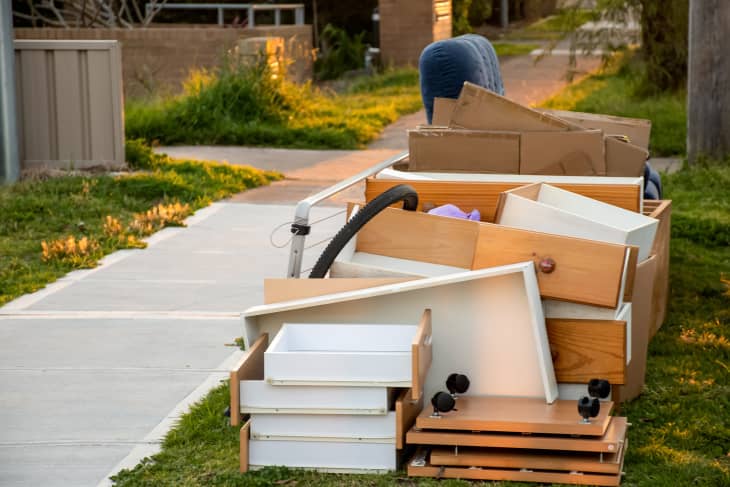 If you're a secondhand furniture lover, you know the thrill of spotting a piece of solid wood furniture sitting on the curb. There's the excitement, the vision — and sometimes you can get carried away in the moment, picking up the piece before you even stop to decide if it's a good idea to grab it (there could be a reason it's on the curb, right?). 
Not every piece is worth saving from the curb and, sometimes, you could even bring unwanted friends and critters along with it. But to make sure you get a free deal worth taking, here are seven things the secondhand experts do whenever they pick up furniture from the curb — because you don't want to go through the hassle of bringing something home, only to put it back on the curb.
Wash it before you bring it inside.
Washing any furniture you've found on the curb seems like an obvious step, but you might want to take it back one level further. Betsy Purves, who often scoops up secondhand finds near her home in Washington, DC, recommends washing anything picked up outside before you bring it inside. 

That inside step isn't because of bugs or germs (although, certainly those are good reasons). No, instead, it's because you never know who's been marking their territory in a piece's prior life, or whether your canine will attempt to do the same. Purves warns, "Take it from a secondhand furniture lover who picks up furniture from the curb and has a dog. I haven't always been able to redirect the pee, despite my best efforts." 
Knock on the door … for a story.
While most people will spot a piece of furniture on the curb, do a quick look over their shoulder, grab it, and then scurry away, Jen Bienvenu, interior decorator and vintage dealer at J. Bienvenu Interiors in Louisville, Kentucky, recommends sticking around for a minute. "I often knock on the door, because I love a good story. Where did this piece come from? Why is it being set on the curb," says Bienvenu.

In addition to fun details about the piece, you might be able to glean some useful info that will help you in your makeover project, like the age of the piece, what it's made out of, or whether the previous owner already attempted a rescue. You might even luck into another giveaway item through the connection!
Check for mold or mildew.
"Don't be afraid of dirt and grime — there's a cleaner for almost everything! But if you spot dark stains and anything even vaguely resembling mold or mildew, that piece should be left behind," says Calle Cone, a designer and vintage seller in Washington, DC, who comes from a self-described long line of curb shoppers, and laments her teenage embarrassment growing up with a mother who would stop the car to examine an abandoned piece. 

Now, here she is, doing the same, and carefully checking to make sure there isn't mold or mildew, which is rarely worth the effort to battle.
Good pieces don't last long — especially when their price tag is free. "If it is by the trash, it is fair game, and if there is a note indicating free for the taking, don't wait, grab it," says Valerie Walton, a vintage fan in Richmond, Virginia. She once spotted a glass-top coffee table on a walk around the neighborhood, but it was too big to grab on her own. She scurried back home, hopped in the car, and drove right back to the house. "As I pulled up, right behind me was another woman in her car with the same idea," she says. "I jumped out of my car and grabbed that coffee table!"
Especially in the era of worrying about bed bugs, it never hurts to take a few extra precautions when you're picking up textiles and upholstery. While there was that iconic Roche Bobois sofa that went viral on TikTok earlier this year, most people should probably steer clear of those types of pieces — you never know why it was discarded. "I never pick up rugs or sofas, though, for fear of bodily fluids and pet issues like fleas," says Bienvenu.
Be honest with yourself about your furniture repair limits.
A piece of furniture found curbside is only as valuable as it is actually used. "Chairs are a particular favorite of mine, but they're not coming home if they're excessively wobbly or broken. No matter how sure you are that you'll find someone to repair the gorgeous caning or broken arm, I'll admit that I've rarely gotten around to it myself," says Cone.

It helps to have a little bit of intel on what is and isn't difficult to pull off. Structural repairs, for instance, are a bigger job, while surface damage is pretty easily covered. Cone adds that if you see a broken lamp or light fixture, those are actually some of the least expensive and easiest repairs, so they're worth grabbing.
Rust can be remedied, but it's going to take time — a lot of time. "Metal outdoor furniture is a great find that makes for a satisfying spray painting project," Cone says, but she has a caveat. "While some rust can be sanded and sealed, anything rusted through will be more trouble than it's worth." Again, it all comes down to condition and being honest about your DIY ability. A curbside find that sits in a corner of your home taking up room for months isn't worth the free price tag.