7 Tips to Prevent Bed Bugs at Home, According to a Sleep Expert
We
independently
select these products—if you buy from one of our links, we may earn a commission. All prices were accurate at the time of publishing.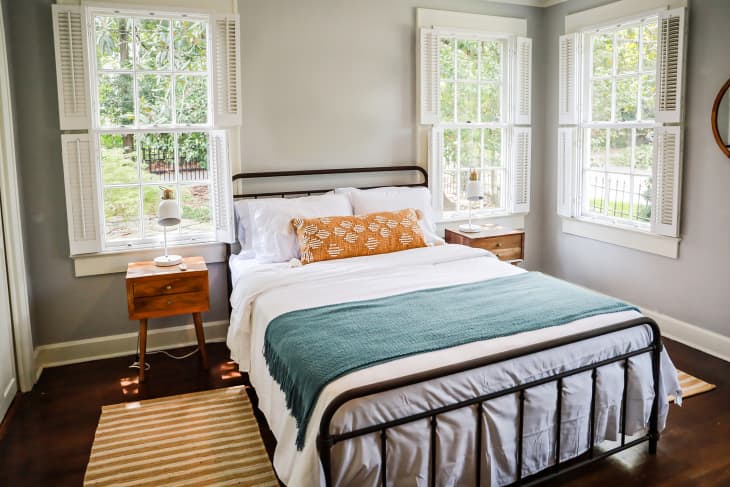 It's crawling all over the news: bed bugs have taken over Paris and might be making moves into other major cities soon. Having an infestation is something no one wants to have and, if you're like me, you'll try as many precautions to avoid it.
Quick Overview
How to Prevent Bed Bugs at Home
Clean bedding frequently.
Buy mattress and pillow protectors.
Get rid of clutter.
Vacuum and sweep floors regularly. 
Vacuum the mattress.
Check luggage and clothes after travel.
Check secondhand furniture before bringing it home.
Below, David Rubin, product expert at The Sleep Doctor and a certified sleep science coach, shared his recommendations on preventing bed bugs, plus, some advice on what to do if you already have them in your home. 
How to Prevent Bed Bugs at Home
Here are the top seven tips Rubin has on preventing bed bugs and making your home uninviting to them.
Keep your bedding as clean as possible.
"Bed bugs can multiply quickly, and those swollen, red, and itchy bites are not something you want to deal with at any level. The best way to prevent them is to keep your home — and especially bedding — clean as possible," says Rubin. Sheets should be washed weekly and dried via a hot dryer instead of air-dried to reduce the likelihood of bed bugs. 
Buy mattress and pillow protectors.
Clutter lying around in your home can be a great hiding place for bed bugs, shares Rubin. Ensure you are decluttering often — and don't forget to clean up your clutter hot spots. 
Vacuum and sweep floors regularly.
You'll want to be vacuuming and sweeping regularly. It is ideal to clean high-traffic areas a couple of times a week (or more) and other areas at least once a week. 
Don't forget to vacuum the mattress. 
Along with vacuuming the floors, you'll want to vacuum the mattress. "Don't forget the seams and piping," adds Rubin. Your mattress doesn't have to be vacuumed as often — once every six months — but should be checked frequently if you have a bed bug concern.
If you've traveled, check your luggage and clothes immediately.
You'll want to prioritize checking all your travel-related items to ensure that no bed bugs hitched a ride home with you. "Look for the dark bugs moving around, or any shell casings, little white bed bug eggs, or brown/red droppings they might have left behind," says Rubin. In fact, consider cleaning your luggage altogether. 
The same goes for secondhand furniture before it comes home.
Before buying and bringing in any secondhand furniture, you'll want to do a bed bug check first. "That sofa might seem like a great deal, but make sure it doesn't come with the free headache of bed bugs," he says.
What to Do If You Do Get Bed Bugs
"If you do get bed bugs, it's important to contain them as much as possible. This can mean encasing your mattress, steam cleaning, or even the use of pesticides," says Rubin.
If you haven't purchased mattress and pillow protectors, now is the time to do so. When it comes to pesticides, Rubin calls out the ingredient "Pyrethrin," as something to look for at your local hardware store. "Pyrethrin is a common active ingredient and often takes care of the problem. As always, follow instructions and allow for plenty of ventilation." Be mindful of what can be used in your home too, especially if you have children and/or pets.
And lastly, although costly, hiring a professional exterminator to assess your home might be the best course of action for you. "[They] can provide the right combination of pesticides, cleaning, and heat application for your home and level of infestation," says Rubin. "It really depends on your comfort level in dealing with the pests themselves."