This Is the Reason You Haven't Seen a Curio Cabinet in a While
We
independently
select these products—if you buy from one of our links, we may earn a commission. All prices were accurate at the time of publishing.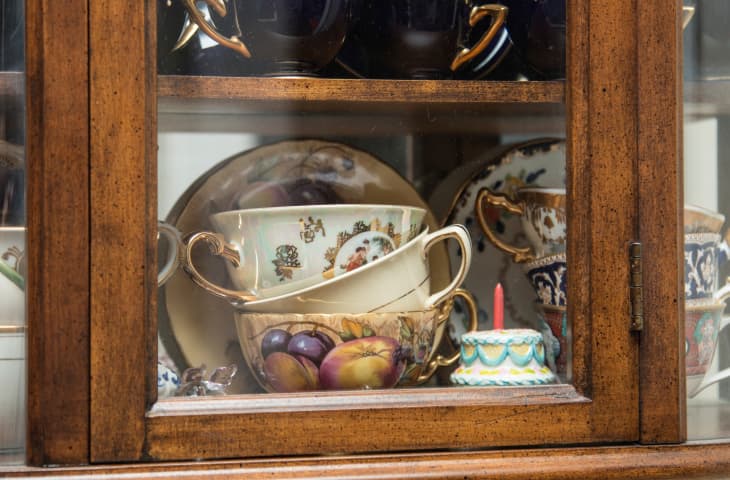 When I was growing up, we called it the china cabinet — the dining room display case made to show off dishes, music boxes, and other collectibles. But the actual name for the china cabinet I grew up with is a curio cabinet. And although they were all the rage when I was younger (and made somewhat of a comeback about five years ago), they've now gone out of style.
"Curio cabinets are old-fashioned and outdated, so people no longer use them as furniture," says Lionel Scharly, a strategic construction advisor at Real Estate Bees. "The glass part also [collects] a lot of dust so it is a very high maintenance cabinet."
Some real estate agents think clutter is to blame. The idea is that curio cabinets bring in a look that exhibits a (messy) collection, seen as a grouping of items that have no real value except to the person who owns them. All of those items, like Scharly said, have to be dusted — something that can fall pretty low on your list of priorities.
But depending on who you ask, curio cabinets could also be the victim of younger generations' lifestyles.
"I don't think curio cabinets are a thing anymore because young people are not collecting," says Coldwell Banker Warburg broker Ellen Sykes. "They are not collecting because they prefer to use the money for experiences. They'll go on a trek up Kilimanjaro rather than add another Hummel or Netsuke [figurine]."
Thus, the world has moved on from curio cabinets. Thrift stores are practically filled with the things, sitting there gathering dust because nobody's buying them.
Personally I don't use a curio cabinet anymore, even though I loved ours growing up. I do, however, still have a collection of small items that I display in a vintage typesetting drawer mounted on my wall. 
So what can you do with a curio cabinet you already have? Well, if you're a fan of grandmillennial style, it could be perfect to zhuzh up and fit your aesthetic. If not, you can either add it to the pile of existing ones at the resale shop, or update it into something else.
"Developing new restoration ideas around it could be a good thing, such as repainting it or adding stickers or filters on the glass part," Scharly says. "Revisiting old furniture is always interesting if you like decoration and updating your apartment."
Try adding a curtain rod and turning it into a glass-fronted closet. Or, take the doors off and repurpose it into a bookshelf. You could even go all out if you have an extra room handy by getting a bunch and turning them into a little museum of things you like. The sky — er, or the glass cabinet — is the limit.