This Cushion Set Converted My Desk Chair Into an Expensive Office Chair for Much Cheaper
We independently select these products—if you buy from one of our links, we may earn a commission. All prices were accurate at the time of publishing.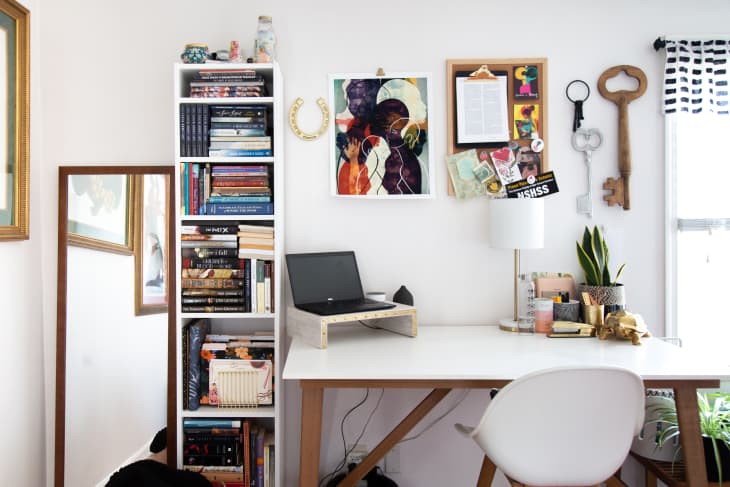 As a work from home veteran (yes, even pre-pandemic), I have a lot of opinions about office chairs. Mostly that any that are actually ergonomic are too big and too ugly to take up so much visual space in my 520 square foot apartment — especially since my "office" is a corner of my main living space.
Follow Topics for more like this
Follow for more stories like this
I have a lovely vintage desk from the 1930s with a matching chair that I found at a thrift shop, and has served me well over the past decade. I like how it blends in with the brick wall in my desk nook, and it has a lightly padded seat that's comfortable enough on most days. Despite my work situation not changing as much as it did for others in 2020, staying home more and almost exclusively socializing over video calls mean my butt has been planted at my desk for more hours than are ideal and I'm starting to feel it. And lately, I've been tempted to forgo aesthetics for more support and comfort.
Before joining the cult of Aeron chair, though, I thought that retrofitting my current chair with a cushion might help add some comfort (and save a ton of money). Thankfully, I got to test out the Pressure Relief Seat Cushion and Back Relief Lumbar Pillow from Cushion Lab, a brand that makes pillows for sleep, work, and travel.
The seat cushion is "shaped by in-house ergonomists" and definitely cradles my bottom in a pleasant way while I'm sitting in the chair. And the shape encourages me to sit with my back straight and my feet on the floor. Most seat cushions have a gripping texture to keep them in place, but others that I have tried have not stayed put. Cushion Lab's doesn't slide around on my chair's coated fabric upholstery.
When paired with the lumbar pillow, it recreates the feeling of a fancy office chair, but without spending $500 or more. I like that I can stash both cushions away if I don't want to look at them. And even when they're on my chair, they are not obtrusive. Plus, they come in standard gray and black options, but also fun colors like pink, peach, and azure. And since they're portable, you can use them on the couch, in the car, or on a plane — you know, once we're doing that again.