How Danielle Brooks from 'Orange Is the New Black' Spends Her Perfect Night In
We independently select these products—if you buy from one of our links, we may earn a commission. All prices were accurate at the time of publishing.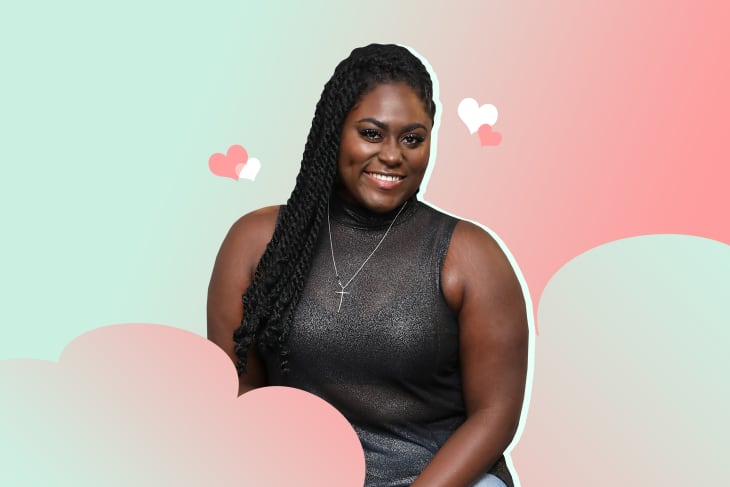 Perfect Night In is a series where we ask actors, artists, entrepreneurs, and beyond how they'd spend the ultimate luxury—a blissful evening at home.
If you watch Netflix's "Orange is the New Black," you're familiar with Tasha "Tastee" Jefferson—a.k.a. one of the most beloved characters on the hit TV show—played by Danielle Brooks. The final season of OITNB drops this week, so what better way to prep for your night in of TV-binging than seeing how one of the stars would?
In addition to the Netflix series, Brooks has also made appearances on episodes of "Girls" and "Master of None," among many other shows. She also has experience with acting on stage, making her Broadway debut in 2015 as Sofia in "The Color Purple. " And if you're in need of a streaming service to watch Brooks this weekend, she's partnered with Wells Fargo's Propel Card to promote using your points for just that.
We got to sit down with Brooks to chat about how she likes to unwind at home when she's not reading her next script. Lots of laughter, ice cream, and comfiness ahead!
Describe your perfect homebody scene in five words or less: Cozy, laughter, deep conversation.
Are you alone or with someone else? With two people: my boyfriend and my best friend.
What's your night-in uniform? Probably the baggiest sweatpants you can find.
What two people, dead or alive, would you let crash your night? Samuel L. Jackson—he's very down to earth and it seems like he takes care of himself. He's 70 years old, he's in the best shape of his life, and has longevity. Also, Ella Fitzgerald would be really cool, just to have her sing to me all night. Every time we talk, she'll just sing her dialogue to me.
Favorite cozy product: I got this blanket from Tanzania 10 years ago and it hasn't lost its color. It's so vibrant still, and it's from the Maasai tribe.
What are you watching? I like documentaries and I also like reality TV, maybe because I'm in scripted TV. I like watching "Queer Eye" or "American Idol." I love watching kids dream, they just want it so bad. And "90 Day Fiancé" is my favorite. They don't know each other and they're in it for the wrong reason.
Silence or music? Soft music. I love jazz, people like Emily King, YEBBA, PJ Morton, that kind of vibe would be my style. Or if it's jazzy, some Coltrane or Sarah Vaughan.
E-books or the real deal? The real deal. I tried e-books and they don't really work for me. I will go to Barnes & Noble and buy 30 books at once and be like, oh no I bought 30 books!  
Board games: yay or nay? Yay! It's not so much board games but more like old-school games that you make up.
Order in or cook for yourself? Order in.
What are you eating? I like Chinese food, like General Tso, or sometimes I'm craving ramen. When I used to live closer to the city in Brooklyn, I would order Van Leeuwen and have them bring it to me. By the time it got to me, it was just the right temperature.
What drink are you pouring? I am a Grand Marnier girl and I also love an Old Fashioned. [Editor's Note: We interviewed Danielle before she announced her pregnancy.]
What's for dessert? I really like ice cream from Cold Stone. I also love Godiva chocolate turtles.
Late-night snack? This Australian candy that's a strawberry licorice.
Do you have a self-care ritual? My mother sells Mary Kay—she's been trying to get that Pink Cadillac forever—and they've got this eucalyptus oil that I put on my feet, which is now a ritual because I did it last night. Also, I take oil and put it on my pillow before I go to sleep. Other than that, I wash my face every night.
What do you try to avoid at all costs? I just want the night to be fun and spontaneous. When I'm at home and have my girls over, I've got the karaoke machine, or we play Heads-Up or Mafia. I love the spontaneity of the night.
Candles: yay or nay? (if yay, what's your favorite?) Triple times the points yay! Right now, I've got this ocean mist one my mother gave me.
Face masks: yay or nay? Yay! I don't really use them too often, though, because when you use them they break out your face.
Bubble bath: yay or nay? Triple times the points again!
Chores: yay or nay? No, no, no, no. They do calm me down if I'm stressed though.
Thanks for chatting with us, Danielle!