The (Very) Dated Closet Features Buyers Always Notice
We
independently
select these products—if you buy from one of our links, we may earn a commission. All prices were accurate at the time of publishing.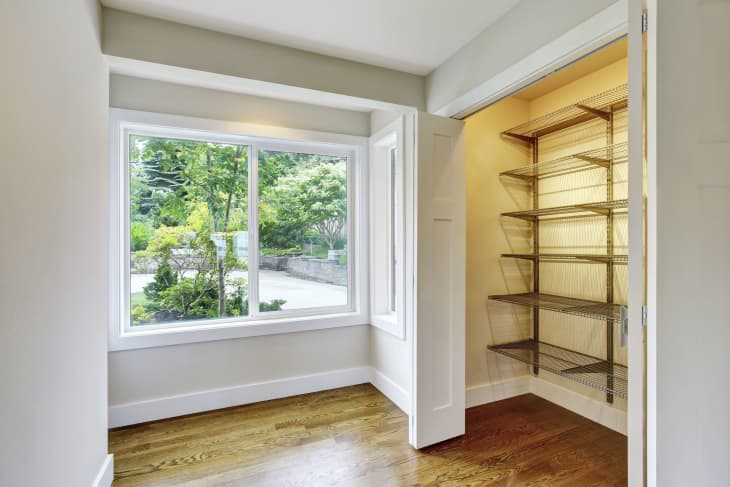 During open houses and tours, it's not uncommon for prospective buyers to open up every single door in a home to peer inside. They might be checking to see where the hot water heater is stashed, for example, but they're also making careful mental notes about the closets.
"Closets are very important to prospective buyers," says Deba Douglas, owner of Deba Douglas Realty Group in Texas. "Closets that look modern and well-maintained can enhance the overall impression of a home. Buyers appreciate closets with customized features that make organization and storage easy."
Trends may come and go, but having ample storage space will always be in vogue — and a lot of that boils down to closets. If you're trying to sell your home, you should fix, update, or replace these dated closet features that buyers almost always notice.
Walk into pretty much any home and you'll likely find the same basic, standard closet design: A lone rod with a high shelf above.
"The intention of these closets was to hang clothes and store extra household goods up top," says Amanda Wiss, founder of Urban Staging. "But that assumed that every room had enough space for a standalone dresser and other storage solutions."
That's just not true in every home, especially in urban settings with tiny dwellings, like New York City. If a home is cramped, closets become the "workhorses of our spaces," she says. As such, every inch needs to be optimized. Closets need to be able to accommodate hanging clothes, but must also have drawers and shoe storage, Wiss adds.
These days, interior designers often install custom closet cabinetry, based on the homeowner's needs and wants, says Jess Klein, the founder and principal designer of Jess Klein Studio in Boston.

"People like being able to have each clothing item, shoe, or accessory have its own place," she says. "We've seen custom closets trending for years now, compartmentalized with areas for specific pieces of a person's wardrobe, and don't see that changing any time soon."
Bi-fold closet doors — doors with hinges in the middle that fold in on themselves when pulled open — are "very old fashioned," says Isfira Jensen, CEO and principal designer at Nufacet Interiors in New York City. 
They first became popular in the 1950s and were thought to be an efficient choice for small spaces, Jensen says. However, not only is their aesthetic lacking, but they can also be cumbersome to open and close because they often get stuck or pop off the bottom or top track, she adds. 

"Great alternatives to this old trend are pocket doors or pivot doors," she says. "Both great options, as they solve for the space limitations as well as have a better overall look."
Although wire shelving can be practical, it's not very attractive — it gives a cold, utilitarian vibe, says Jensen. In addition, smaller items have a tendency to fall through the cracks and, if you're folding and stacking your clothes, the bottom layer may get line marks from the wires.

Consider replacing wire shelving units with custom shelving made of wood or melamine, she recommends.
This one may just be a symptom of a bigger closet design problem, but buyers absolutely do not want to see all of your mess and clutter shoved into the closet. They want to see a nice, tidy, organized closet, with everything in its place, says Douglas.

Even if you can't afford to do a full overhaul of your closet, consider adding some affordable organization units, like shoe racks or hanging organizers.