See How a Dated Long Island Kitchen Became a Stunning Seaside Cooking Space
We
independently
select these products—if you buy from one of our links, we may earn a commission. All prices were accurate at the time of publishing.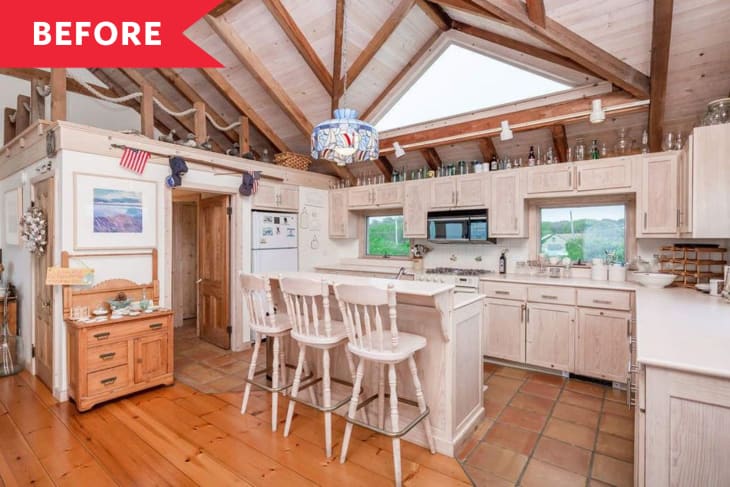 Long Island can feel like it's been completely developed by now, but believe it or not, the peninsula still has some hidden gems left to discover. Case in point? This 1950s fisherman home in Amagansett Bay — which Amalia Graziani, a designer and real estate developer with Noor Property Group in New York, was tasked with designing.
The owners wanted her to update the 1,500-square-foot rental property with modern amenities while maintaining the classic Hamptons aesthetic, which is rooted in the community's fishing history.
The three-bed, three-and-a-half-bath home had a lot going for it, including a prime location on the water, great views of the bay, a good overall shape, and a tree-dotted lot.
However, it had been neglected for some time, as evidenced by boarded-up windows and crumbling plastic siding. Quite simply, it had been worn down by the elements, which can be harsh in coastal areas. Another challenge? Due to waterfront zoning, Graziani had to work within the existing building shape.
"The layout took some creative maneuvering, but, ultimately, there was a lot of untapped potential in the structure," she says. "It was clear that it could be transformed with a lot of love."
Her goal was to completely overhaul the home while maintaining a sense of connection to the environment. "I heavily emphasized natural materials and rough fabrics, and kept a pared-down palette so the water views and surrounding nature remained the focal point," Graziani says.
The kitchen, in particular, needed a lot of help. In addition to being dated and boasting a too-literal nautical theme, it was located smack dab in the middle of a large great room. "It felt strange to have the kitchen in the middle of that space," she says. "The setup didn't take advantage of the great light in the home and it wasn't a place you'd want to congregate." 
Instead, she envisioned an airy and minimal space that felt calm and clean. "This is hard to maintain in a high-traffic kitchen, so the kitchen was designed to anticipate future clutter," Graziani says.
To make the room feel expansive and inviting, she wanted to place an emphasis on scale and light. Soon, she realized that changing the roofline and bringing in light from multiple sources would help achieve her goals.
"The kitchen had an asymmetric ceiling, so, to bring balance, we built an artificial pitched roofline that's perfectly centered," she says, explaining that opening the ceiling allowed for an oversized window along the roofline that floods the room with light.
"Keeping things this simple required a lot of engineering during the construction phase, but it was an enjoyable challenge," she notes.
Further construction was required to relocate the kitchen to a small bedroom just off the great room in order to create a separation between the kitchen and the living space. "This created space for an oversized dining table to support large groups," Graziani says. 
Now, French doors with brushed-nickel frames offer an elegant entrance to the kitchen from the dining space. In keeping with the pared-down look, she created a clean wall above the stove without a hood or fan. This required a hidden ventilation system that removes smoke and kitchen fumes in the same way a hood would. 
"There's a surprisingly intricate system hiding there," she said. A shelf that runs from wall to wall above the stove provides storage.
To further the minimal, monochromatic look, Graziani opted for custom paneling to disguise all appliances and house countertop items.
In terms of her materials palette, Graziani used high-sheen cabinetry, honed marble countertops and backsplashes, and chrome hardware. These elements provide a modern contrast to the home's rougher, more natural materials, such as reclaimed wood and plaster.
It's a fine balance that results in such a stunning home that we're sure the owners were tempted to move in themselves — versus renting it out as they had planned.