Why "Dead To Me" Inspired Me to Liven Up My Front Door
We independently select these products—if you buy from one of our links, we may earn a commission. All prices were accurate at the time of publishing.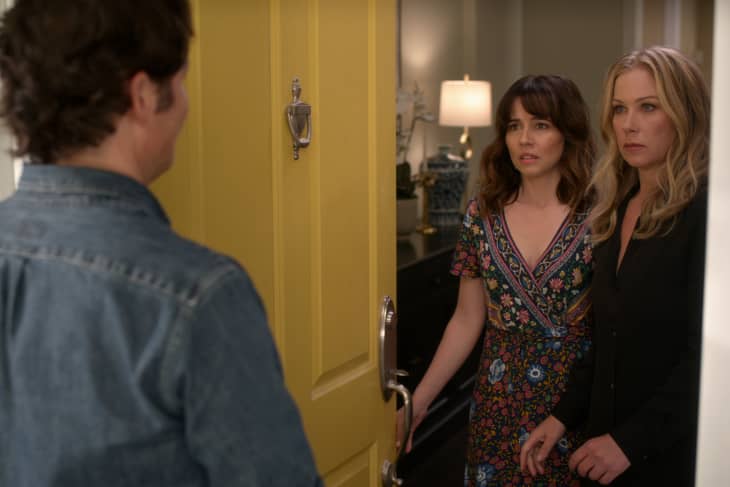 Like so many people, I was immediately hooked upon the debut of Netflix's hit "Dead to Me," which recently came to a close after three triumphant seasons. The series stars Christina Applegate and Linda Cardellini, whose characters meet at a grief support group and become unlikely pals, ultimately embarking on a wild friendship marked by loss, murder, health crises, and so much more.
Applegate plays Jen Harding, a widow grappling with the prospect of raising her two sons solo. The series takes place in lofty Laguna Beach, California, and Jen's career as a real estate agent in an affluent enclave means she herself lives in a stunning New England-style home. And while fans understandably love Jen's upscale beachy decor and design scheme, my husband and I immediately honed in on her sunny yellow front door, which sits in stark contrast to the sardonic personality Applegate manages to balance with heart and humor.
Follow Topics for more like this
Follow for more stories like this
Throughout the show's run, we mulled the idea of painting our own front doors yellow to pay homage to the series and to Applegate herself, who has long been one of our favorite actors. After Applegate announced her multiple sclerosis diagnosis — which came while she was filming the final season of "Dead to Me" — she called finishing the series the hardest experience of her life. When she shared that the series might mark the end of her acting career, it suddenly became a no-brainer for us to pay tribute to the show's incredible depiction of female friendship and to Applegate, who has spoken about her experiences with MS with unfailing humor and honesty.
Six coats of Benjamin Moore's Bright Yellow 2022-30 took our standard white double front doors into their new happy hue, making for the perfect antidote to the suburban New York winter chill we're experiencing. Of course, much of the fun of owning a home is being able to decorate it how you like, and I'm grateful that my husband never shies away from my love of color… even if it comes in unexpected places.
For those interested, the real home used to film the series is located in California's San Fernando Valley, and the 1960 build is estimated to be worth close to $4 million. The home's front door is actually a dark navy shade, with set designer Brandi Kalish transforming it to its signature vibrant canary yellow hue specifically for the show. In fact, Kalish told Architectural Digest that since "Dead to Me" debuted in 2019, she's received tons of emails from fans trying to emulate just about every aspect of Jen's home.
Opening our new sunshine yellow doors feels like a truly on-the-nose way to welcome people into our home, and we love explaining that we were inspired not only by one of our favorite shows of the past several years, but its star, who has always embodied strength, courage, and grace no matter what life has thrown her way. We wish for Applegate nothing but good health and healing, and we now think of her every time we catch a glimpse of our beautiful yellow doors.